Raub Welch: The Art of Collecting
By Danny Dunson
24 th May , 2019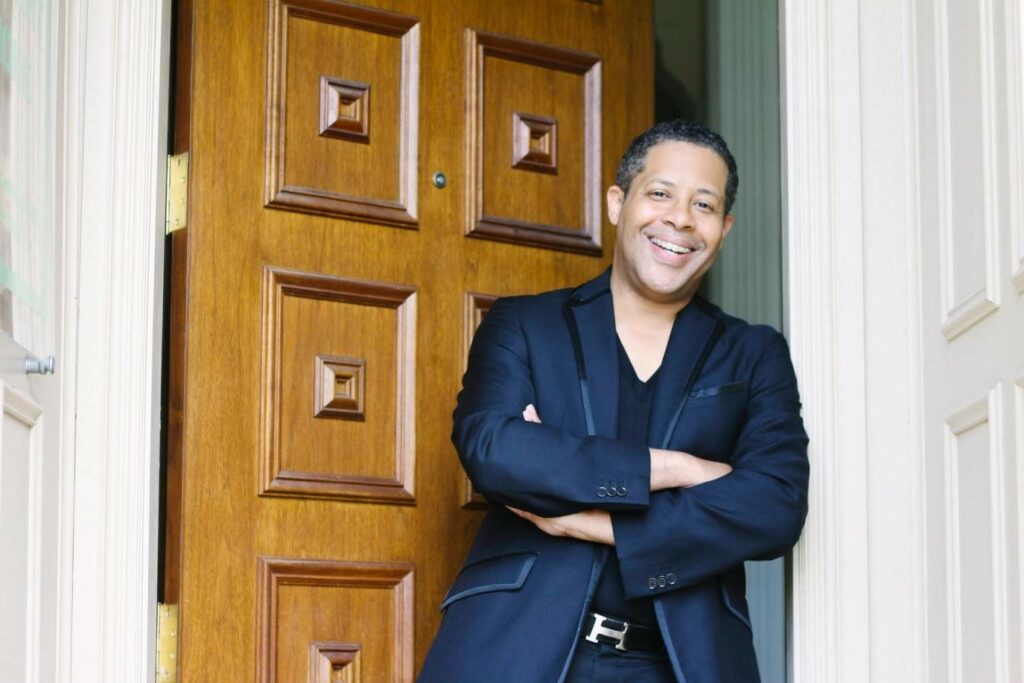 Raub Welch is a friend of mine. Over the years I have spoken with him countless times about art. In fact, art is one of the strongest elements of our friendship. An accomplished artist himself, Raub's work has been featured in museums, galleries, and well-appointed homes across the U.S. But as much as he has devoted his life to making compelling work, he is equally devoted to collecting the work of other artists of his community.
Not only does Raub collect art, but he has helped to promote and develop the careers of young artists for decades. Often Raub opens his stylish home for artists to show and sell their work. In a 19th-century French salon style, Raub's home transforms into a place to not only acquire great work, but to intellectualize it, romanticize, sometimes deconstruct it and criticize it, all over a glass of wine, and desserts that Raub has most likely baked himself.
In Raub's home, old world values intersect with new conventions, and old-timey antics associated with art snobbery take a back seat to a democratizing space, that imbues creative thought and collective engagement, while promoting a sense of community.
I cannot begin to count the times that I've had to spend the night in Raub's guest room, after hours of looking at his fantastic art collection, and discussing contemporary art until the wee hours of the morning. I would like to pretend that I am special since Raub and I have been friends for many years, but he treats so many this way.
His home is endowed with an open invitation to look at works by Kerry James Marshall, Kara Walker, Theaster Gates, and Hebru Brantley. Frequently, Raub and I talk about the importance of generational wealth, and the importance of investing in young artists.
Amongst some of the household names displayed on his walls, many up and coming artists are intermingled democratically within Raub's home design. I spend a lot of time trying to figure out what book I will try to steal from his collection of monographs, knowing that if I tell him how much I love it, most likely he will very generously gift it to me.
In 2018, Raub hosted a sale of his own art specifically for young art lovers that have a low budget. He created a series of work that was equal to the work that he sells to wealthy clients. He wanted to make sure that young Black collectors under 25 could start collecting art, have access to fine art that is normally out of reach, and build a source of wealth from it. This has been a practice of Raub's for decades.
A couple of years ago Raub called me, letting me know that fresh rosemary had fully sprouted in his garden. Within an hour, Raub showed up at my apartment with 10 sprigs of rosemary and an original, framed, drawing by Sylvester Britton (1926 – 2009), an African American, Chicago artist who paved the way for so many artists of color today. "This is yours!" he said. "You can't just write and think about art, you should live with it, and collect it, and pass it on."
Although I thanked Raub for his selfless giving, I don't think I ever told him how much that small sketch of a Black boy, done in about 1940, means to me. Well, as Editor in Chief of ArtX.net, I have taken the liberty, and the license to present to our readers an interview I did with my friend, Raub Welch. We chatted on a Sunday afternoon while sipping from crystal glasses of his upcoming home collection for Afro Opulence, with the words "Black Love" engraved, (available July 2019) and eating rich butter cookies, — fresh from his oven.
Danny Dunson: Why do you collect art?
Raub Welch: I collect art for one reason— it makes me happy. All the other positive things that come along with it is a bonus. However, there are a few perks that fuel my passion. One of these is the legacy of building a collection. Having two children and wanting them to become a part of a world culture of collecting brings me joy. Secondly is being connected to the artist community of which I love interacting with. It fuels a different part of me. Artists just think differently, they open your mind up to things that you have never thought about or think about on a daily basis.
DD: What was the first piece you ever bought?
RW: The first piece of art that I ever purchased, was at an art fair. It was a gorgeous mixed media work. I've forgotten the artist's name. I was around 24 or 25 at that time, and it had a price tag of $1000.00! I did not have $1000, but I was determined to get the work. It was the painting of my 1st love, a botanical. After talking to the artist for two days at the art fair, we finally reached a price point that I could afford. It was the last day and thankfully he didn't want to pack up the lovely painting of a tulip.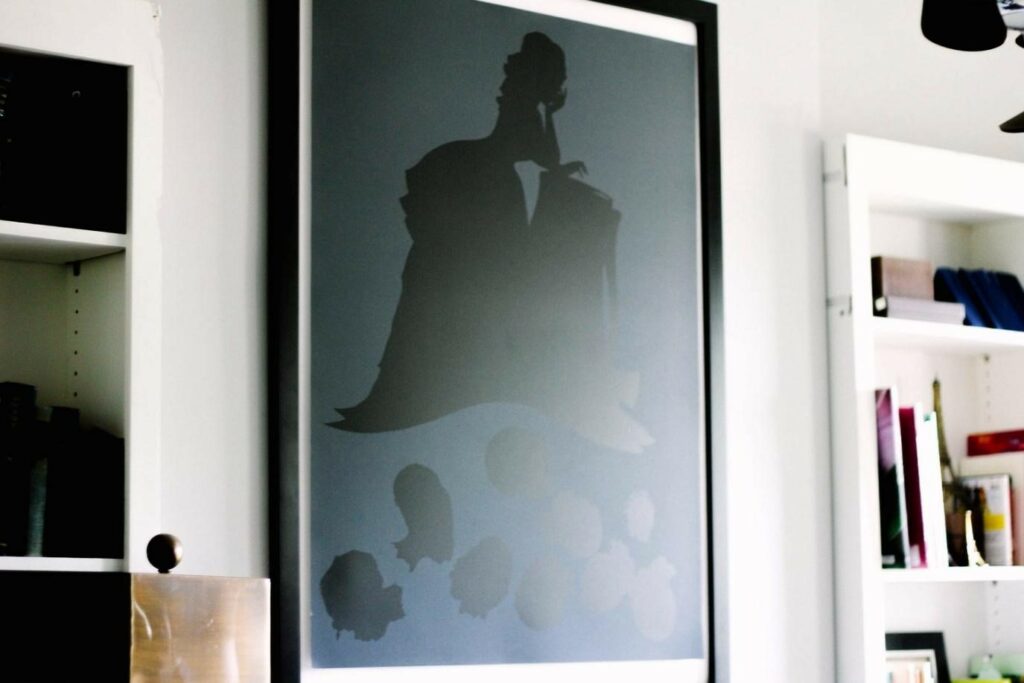 DD: What is your most favorite piece?
RW: I don't have a favorite piece. I have too many favorite pieces! In my collection, I have about 100 works. I do have works that I can't believe are in my home. And I do remember the "pinch myself" moments when they arrived. There's an artists' proof by Kerry James Marshall that sits on my piano. He is my favorite living artist, and like me, a Chicago resident. A wonderful work by Theaster Gates, is a treasure as well. It has a beautiful note to me, about our days together at my old gallery attached to it. In my bedroom over the fireplace, hangs a piece by Kara Walker, a Black American woman artist. I can't say I have a favorite, but I can say that when I look at the work by artist/friend Candice Hunter, Celestial Beings, I realize now, this is something that I love dearly.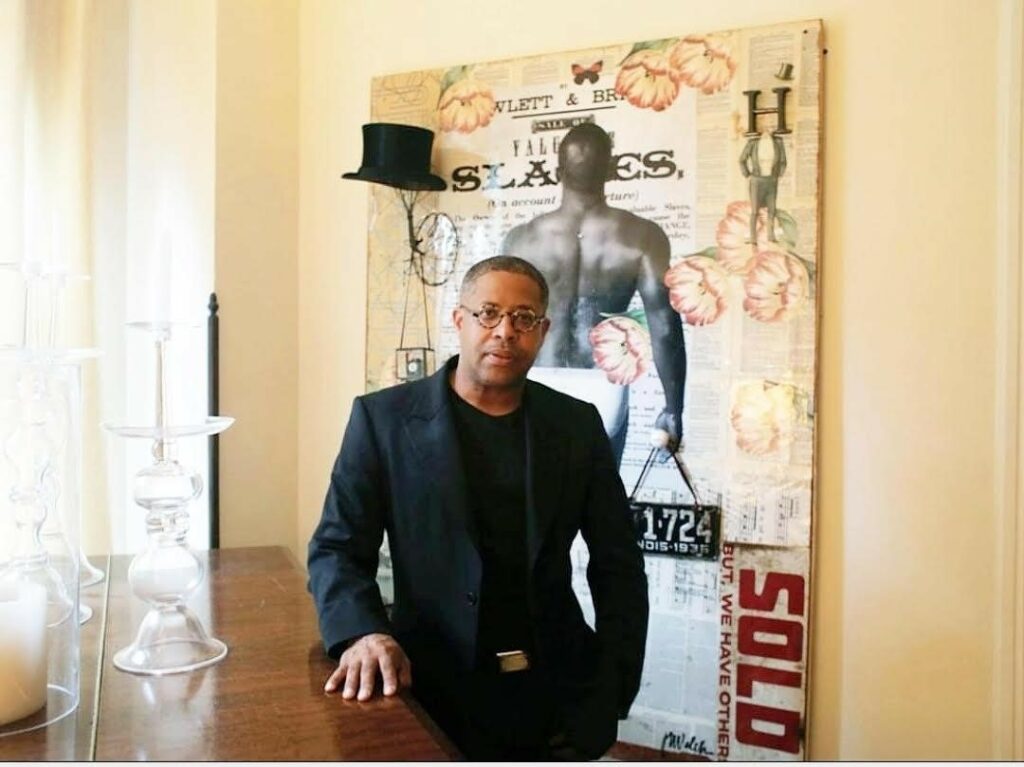 DD: You are an acclaimed artist in your own right, how has collecting the work of your peers informed your own process?
RW: Yes, I am an artist. I've owned an art gallery. I am a collector, so my process of collecting is sort of like a trinity. I know the time a painter spends on the work because I paint too. I know when artists cut corners, and I know when artists have given 110%. So, being educated in the practice gives me more insight. I often talk and visit my friends in their studios, just to stay in contact with the folks on the ground level that are the creators of the work. We all love the galleries, the curator, the museums, but we often forget why those jobs, people, and institutions even exist. Without the artist, no one would ever need such people or places. I wish the artists would understand this point, but that's another interview. So, I take a wealth of knowledge from my peers to incorporate them with my work and my buying practice.
DD: How can someone on any income level start a collection?
RW: There was a time when you could really afford to buy great works of art and feel good about the prices you paid. To be honest, we've all heard of starting relationships with the artists, letting them know how much you love the work, — same with gallery owners. Things have really changed; sure, you can score great art, but it's no longer as affordable as it once was. One way to collect affordably is by buying prints of the artist you love. Most of us do not have 30K to put down on an original work by an emerged artist, even fewer of us have money to buy blue chip.
Go to art fairs, small galleries, open artist studio events, and buy with your heart if you're starting out. Social media has also become a great tool for meeting artists directly! If you see something that you like, they are often willing to sell the works directly to you, if they are not represented by galleries. And on the flip side, if you're rich, just go to the galleries; these days they are struggling too. (Laughs)
DD: How has your interest in collecting changed throughout the years?
RW: My interest in collecting has changed as I've gotten older. Collecting for me is still a very emotional thing, but now I limit what I get emotional about. I have put perimeters on what I can bring home so that my collection can seem more focused and deliberate.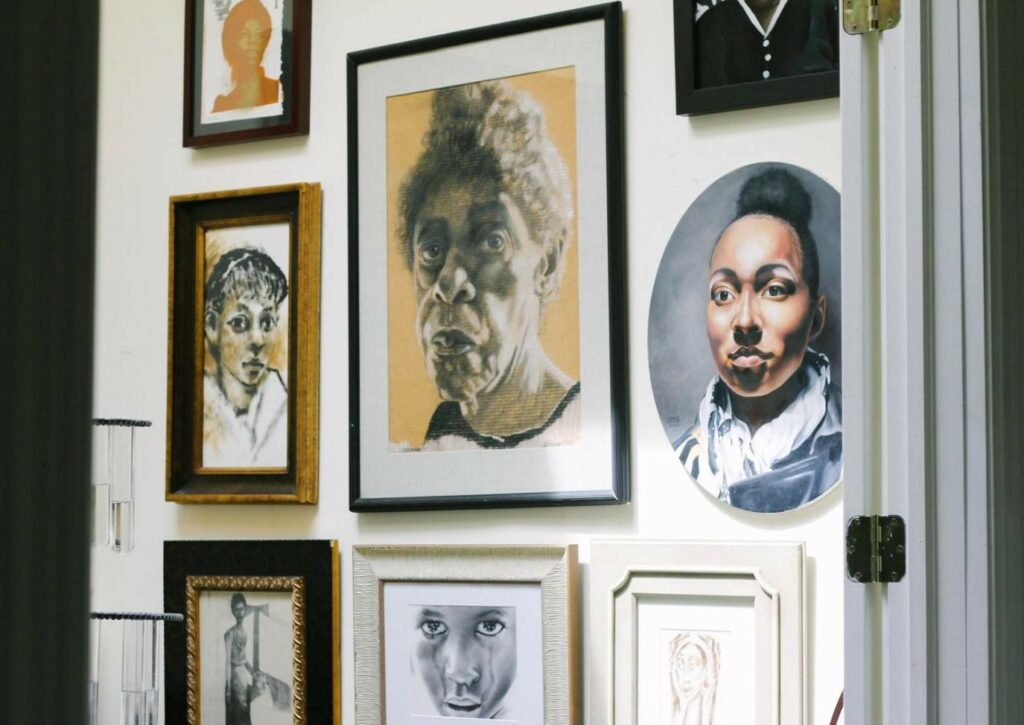 DD: What are some pieces that you would love to acquire for your collection now? What artists do you have your eye on?
RW: Oh my gosh there are so many great artists that I would love to have in my collection. But again, I have put a criterion on what I can buy. In 2019 it's works from Black women artists. There was a time when I would announce which artist I was about to purchase, who I was looking at, and what artists had my heart. I stopped that practice; I have found that it puts too much pressure on me, and even more pressure on the artist.
DD: How do you feel that collecting art can ensure generational wealth? Is it as good as an investment as real estate?
RB: Art or real estate as an investment both are good. And I can only speak as a Black art collector and property owner. So often Black people need to purchase real-estate not for generational wealth, but for generational survival. We've all heard the stories of Black parents/grandparents dying, and the only thing the family had, was the family home, and luckily, they had that home for the next generation to live in. You can't live in art. Choose wisely. Art is a luxury, and people are not speaking the truth when they say that it is not, granted we art lovers are living in an art bubble, and we believe that everyone needs art and that we can't live without it, but that simply is not true. So, with luxury comes value, access, prestige and all things that translate into wealth. I truly believe art is a much better investment than real-estate, especially if you're able to keep your fingers on the pulse and can buy when the prices are low and at the right time.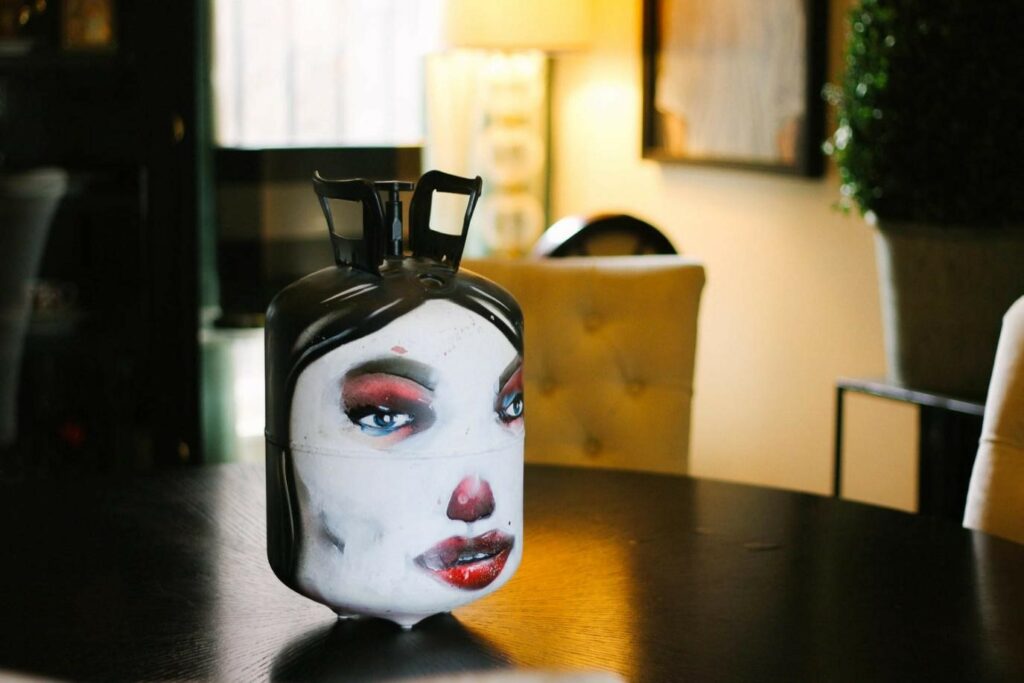 DD: What is the most important advice you can give a young/new collector starting their collection?
RW: One thing I cannot say enough is buy what you love! And that goes for new collectors with money, and new collectors without. Trust me, there will always be something that moves you whether you spend $100 or 1 million.
DD: Do you think successful artists have a responsibility to help young collectors of their community have access to their work?
RW: The thing that's most important to me about being an artist is to keep my work accessible to the people from my communities. It is wonderful to see new artists from disenfranchised communities having a moment. But it's also vital for these artists to create works that are a representation of what they are, and who they are today, and to give a voice to the people who they are creating these works about. Some of the new work by marginalized and underrepresented artists looks like fetish work, and by that, I mean it seems the work has been created to sell to others that play into a vision or stereotypes of their culture. I feel that keeping some of their works in their own communities gives them a reality check for work that is being distributed to communities that are not their own.