Native Son
Artist Rashid Johnson Curates an On-Screen Exhibition of Black Contemporary Art in HBO's Adaptation of Native Son
By Danny Dunson
25 th April , 2019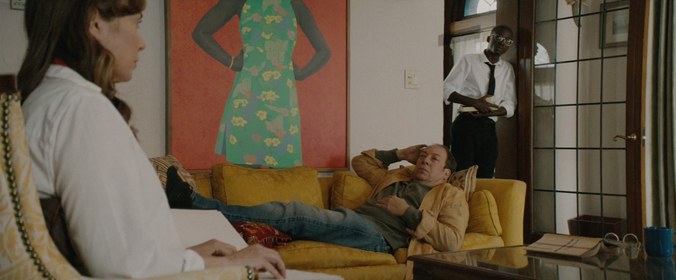 Amy Sherald, The Make Believer (Monet's Garden), 2016.
The ArtX team was excited to hear that critically acclaimed artist Rashid Johnson's directorial debut, a new retelling of Richard Wright's Native Son, had been picked up by HBO. Johnson joins the ranks of a small elite group of visual artists who transitioned from the museum to the movie theater. He has made short films before, for commissions at the Guggenheim and the Garage Museum of Contemporary Art in Moscow, but Native Son is his debut as a feature film director. Unlike notable artists/film directors Steve McQueen (12 Years a Slave), and Julian Schnabel (Basquiat), Johnson used this big screen opportunity as a platform to highlight the work of his contemporaries, a vanguard of Black artists.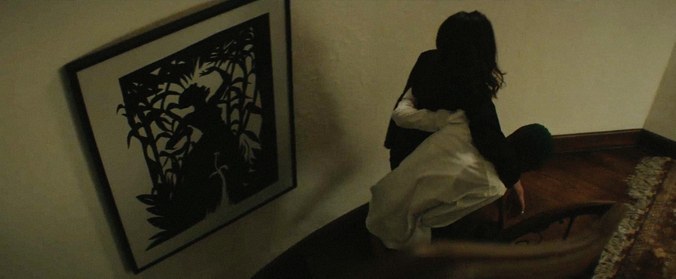 Kara Walker (Native Son, HBO)
As in the original 1940 book, the new Native Son movie begins with Bigger Thomas, played by Ashton Sanders, killing a huge rat in his Southside Chicago home, where he lives with his siblings and their single mother. His troubles accelerate after he gets hired as a driver for the Daltons, a wealthy white family. But this time, the story is set in contemporary times, and unlike any other adaptation, contemporary art became an additional character in the scenes. In one of the earliest scenes, imagery by the talented Detroit based artist Rashaun Rucker appears as a Chicago street mural. As he dreams of a life beyond his current situation of poverty, hustling, and strained family dynamics, 20-year-old Big Thomas ends up in the opulent world of the Daltons. In the film, the Daltons are collectors of art created by black artists of the current zeitgeist: Malcolm X, by Glenn Ligon, Soweto Queen, by Deanna Lawson, The Make Believer (Monet's Garden), by Amy Sherald, and a silhouette by Kara Walker line the walls of the Dalton's home. There are also antique African masks and bronze statues in the living room and office.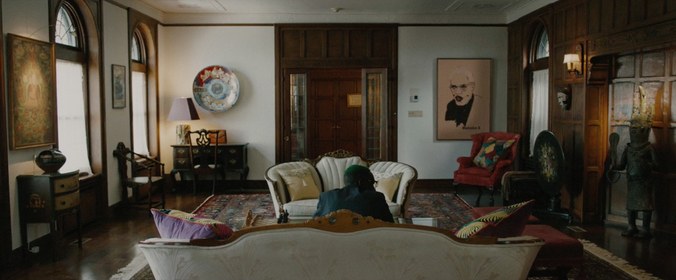 Glenn Ligon, Malcolm X, 2001. (Native Son HBO)
The art used in the scenes of the Dalton's home is an element of the film that was born from its director's personal experience. "It is not uncommon for me to enter a home owned by a well-meaning liberal white family and see black art on the walls or in the background," Johnson explained to W Magazine.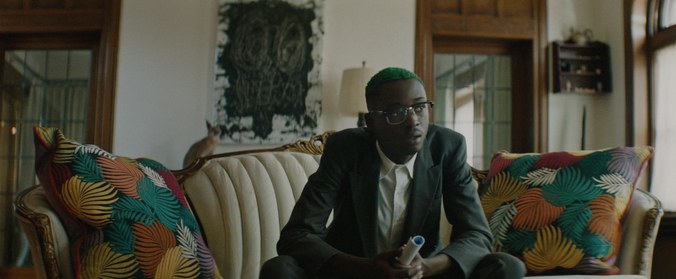 Rashid Johnson, Anxious Men, 2015. (Native Son, HBO)
Johnson's own work appears in the film as well, appearing on the Dalton's home office. There's a large black-soap-and-wax-on-tile drawing on the wall by Johnson from a 2015 series called Anxious Men. Johnson said that when it came to the production design, everything came back to the question, "What gives me the most anxiety?" For him, Anxious Men represents Bigger's anxiety and dissonance as he considers his own black identity in this tony white space filled with black voices. The curated film displays the work of: Rashid Johnson, Amy Sherald, Anish Kapoor, Corey Crawford, Dawn Tarr, Deana Lawson, Desmond Rupert, D'Jalmer Perry, Glenn Ligon, Henry Taylor, Hulis Mavruck, James Concannon, Jeffrey Chiplus, Julie Meheretu, Kara Walker, Lorna Simpson, Mark Bradford, Mark Gibson, Rashaun Rucker, Sam Gilliam, Ra Washington, and Taha Clayton.
Rashid Johnson's, Native Son is currently streaming on HBO