MET GALA 2019: Celebrities Bring Black Art and Culture into the Conversation
By Danny Dunson
9 th May , 2019
The first Monday in May annually marks the biggest event in fashion, art, and entertainment, The Metropolitan Museum of Art, Costume Institute Gala, aka The Met Gala, sponsored by Vogue. Andrew Bolton, the Costume Institute's Wendy Yu Curator in Charge, took Susan Sontag's 1964 essay, "Notes on Camp" as the central thesis for the museum's most attended exhibition.
This years' theme proved to be one of the boldest ever, starting with the over-the-top, grand entrance of Billy Porter, star of the groundbreaking series, Pose, on the red carpet (turned pink for the evening's theme). Porter was hoisted upon an ornate platform and carried on the red carpet by six muscle-bound, topless men, scantily clad in gold pants and jewelry.
Porter's costume by The Blonds, was a dazzling creation dripping in gold embellishments, spanning out like a glamorously winged creature. An ethereal and opulent headpiece, worthy of an Egyptian deity, was secured to Porter's head. Porter's look channeled two (or more) icons of Black queer performance artistry, the "Androgynous Queen of Disco" Sylvester, and Pepper LaBeija, the legendary star of the documentary film, Paris is Burning (Jenny Livingston, 1990), and mother of the Iconic House of LaBeija.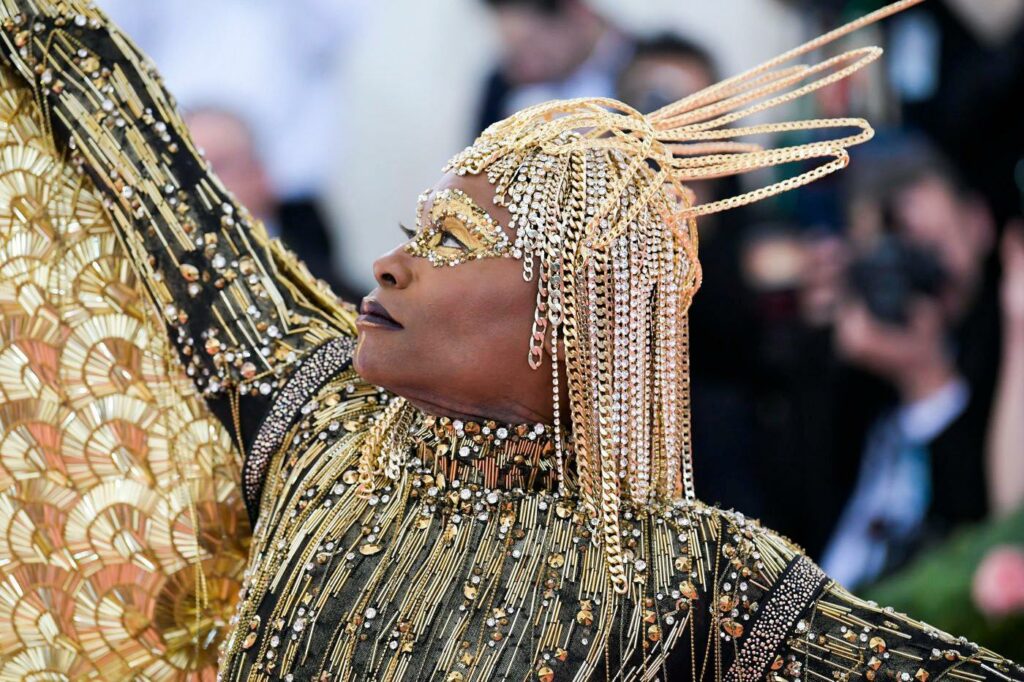 The 70s/80s diva, Sylvester (James) has reemerged in contemporary culture as a powerful muse for creatives who pay homage to Sylvester's non-binary, and gender non-conforming queer aesthetic. Sylvester was the essence of camp, titillating spectators with a glamour rich persona and flamboyant stage presence. Like his music, Sylvester's costume choices were riveting and visually pulsating. He was larger than life.
Porter's makeup was done by the self-made billionaire beauty maverick, Pat McGrath. McGrath, a longtime favorite of the fashion industry, immortalized Peppa LaBeija, by naming a nude lipstick in her highly successful, eponymous makeup line "LaBeija", after the deceased luminary.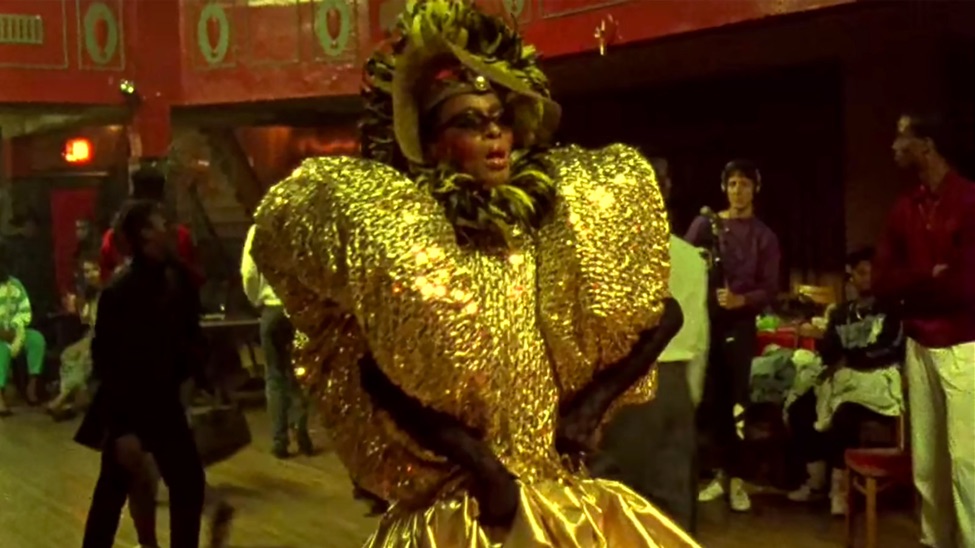 "Camp was invented by Black drag queens!" exclaimed Lena Waithe as she stood next to Kerby Jean-Raymond, designer of the CDFA award-winning fashion brand Pyer Moss, known for deploying political messages into its aesthetic. Lena Waithe was a committee member this year and wanted to make sure that blackness was represented in the camp story. "I wanted to bring awareness to the contributions of Black culture especially within the ball community," Waithe explained to E! News, live on the Red Carpet. "The buttons are pictures of icons like Pepper LaBeija, Willy ninja, RuPaul and Sylvester, all of these pioneers who started the whole thing… I really want to pay tribute to them and what they did for the culture…… camp to me is about always being extra and being over-the-top. Black people have always been over-the-top, which is the essence of camp," Waithe said.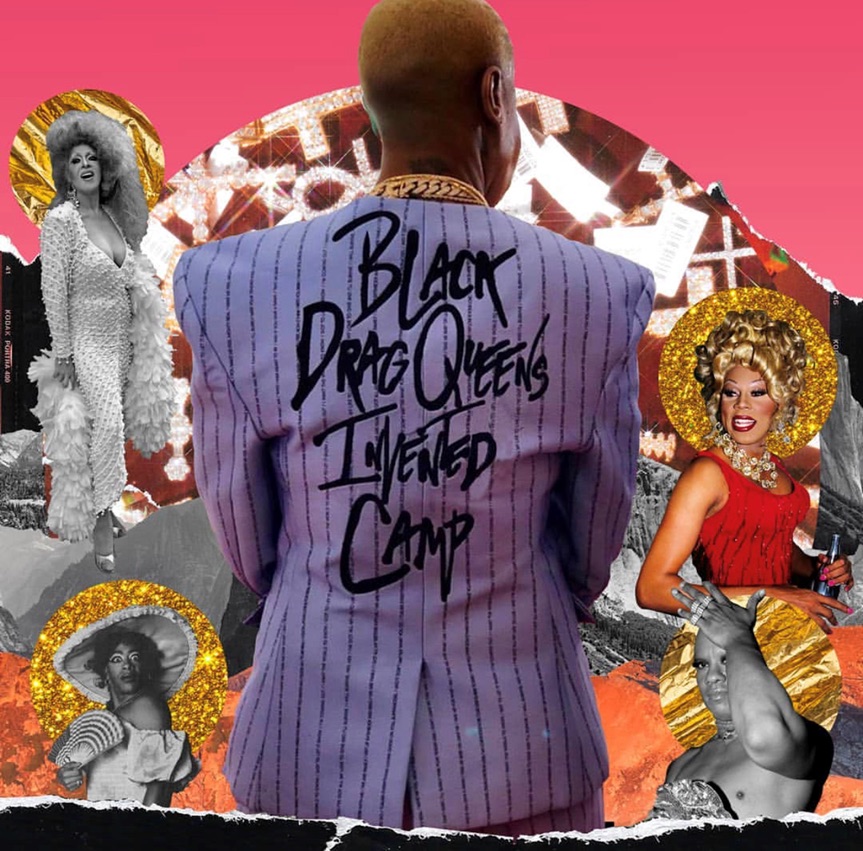 Some critics argue that Sontag's 1964 essay "Notes on Camp" brushes over the contributions that the LGBTQ community and people of color gave to the art genre. It seemed that Waithe was attempting to insert what Sontag left out. Waithe wore a lavender menswear-inspired, pin-striped suit with "Black drag queens invented camp" written across the back, the pinstripes were made up of lyrics from Diana Ross's hit anthem "I'm Coming Out", and Gloria Gaynor's "I Will Survive.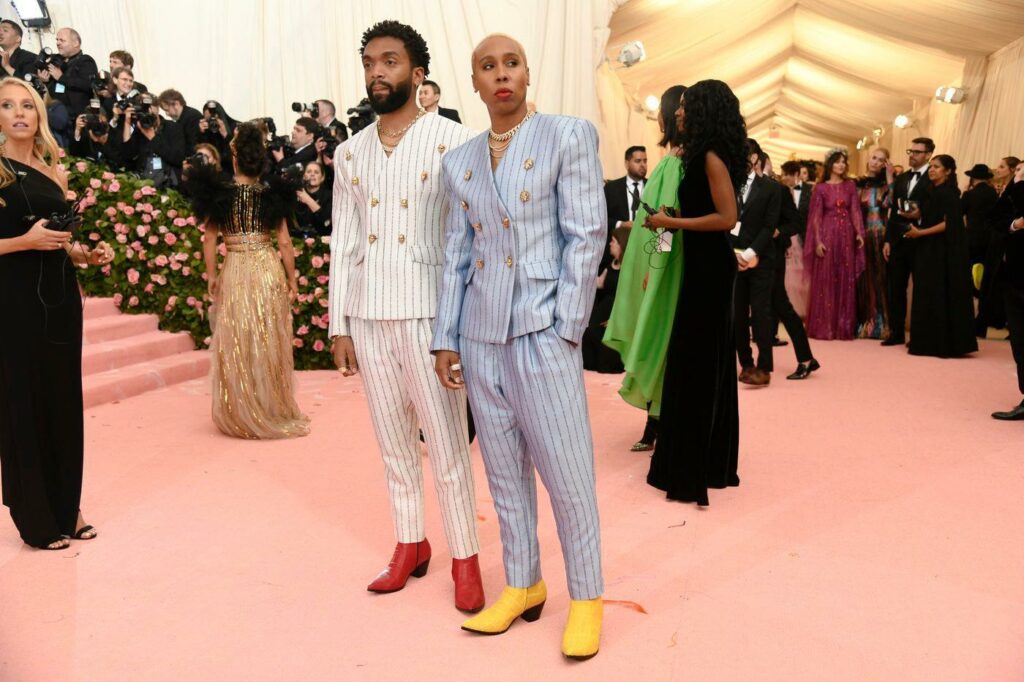 In an Instagram post of her look, Waithe provided the caption "I came to slay, bitch." And slay she did, as she spoke the names of undermentioned African-American and Latino, queer performance legends of New York City ball culture, a historic gay and transgender artistic community.
Waithe's bold assertion of culture in the mass celebrated event has rapidly spread throughout social media, inspiring visual artists like Kendrick Daye, a Harlem based mixed media artist, to create visual art components to the political commentary. Hattian-American designer Jean- Raymond's jacket emblazoned the wording "Fix Your Credit. Pool Money Buy Back The Block" The custom zoot suit like blazer also displayed lyrics from Nipsey Hussle, Tupac Shakur, Nas, Drake, Meek Mill, J. Cole, and Kendrick Lamar.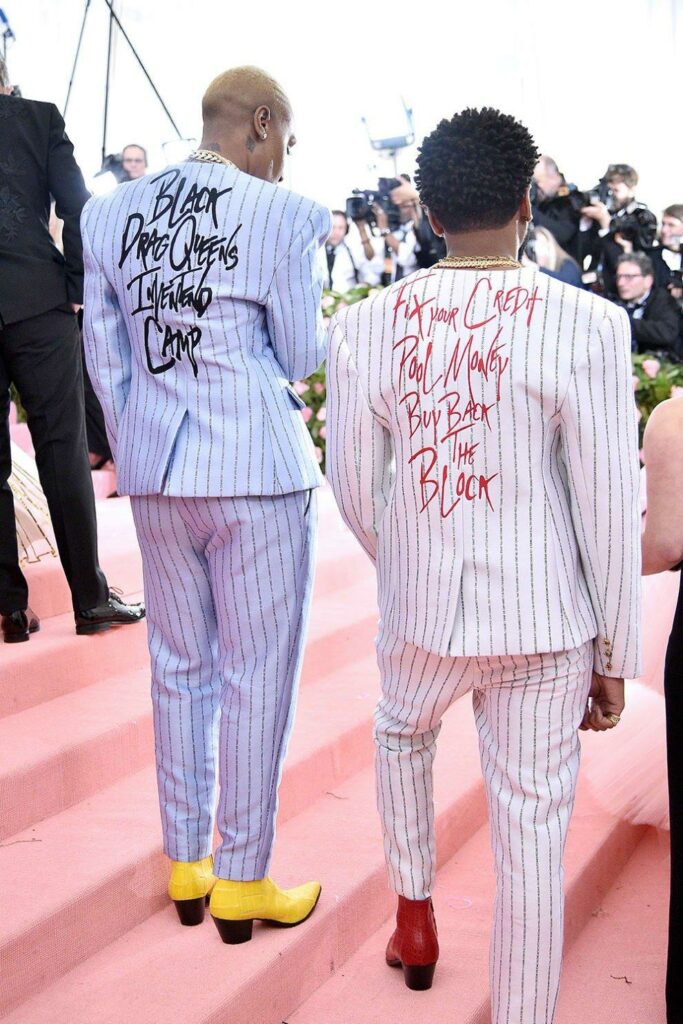 Lupita Nyong'o appeared as a kind of Afro-Marie Antoinette, channeling the over-the-top camp aesthetic of the drag film star Divine. However, what many people may not know is that she also referenced a significant work of Black contemporary art, "Pickin" (2007) a photographic self-portrait by artist Lauren Kelly.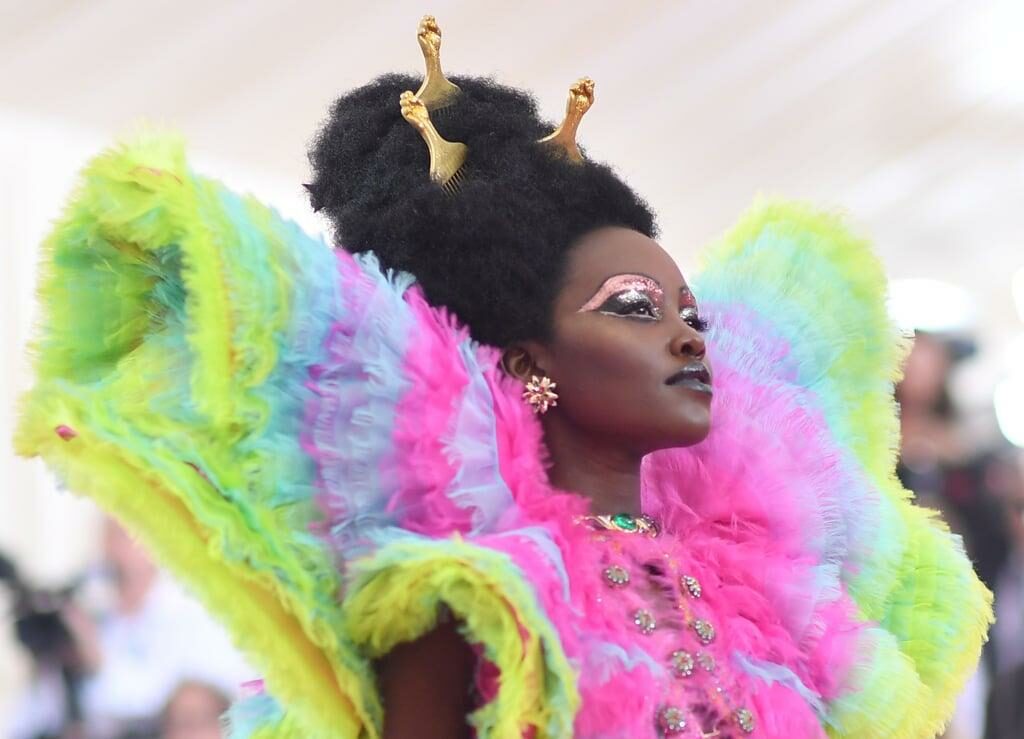 Nyong'o's stylist was inspired by the gold "power to the people" fist pics of Kelly's original image and incorporated gold spray painted pics within the afro-pompadour wig of Nyong'o's costume. The Us actor enlisted the help of celebrity hairstylist, Vernon Francois, to achieve the towering afro that was complete with a crown of five gilded afro picks. On Instagram, Francois revealed that the look was partly inspired by artist Lauren Kelley's self-portrait, which shows her wearing a crown of gold hair picks, and the former Queen of France, Marie Antionette.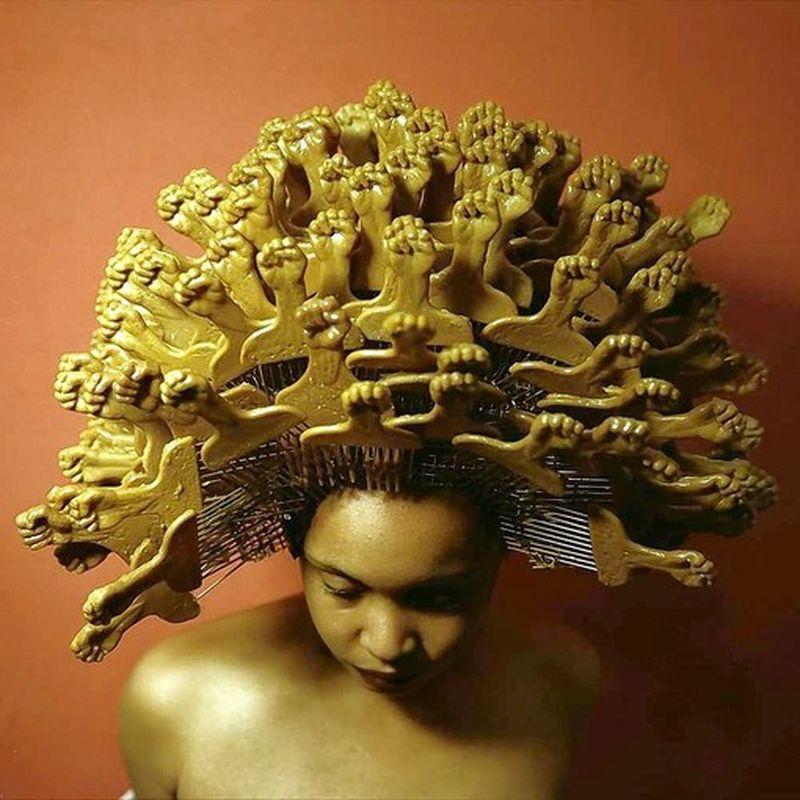 A few other celebrities decided to insert their cultural aesthetic boldly as well. Fashion darling, Tracy Ellis Ross showed up on the pink carpet, in a black Moschino dress, and a golden museum frame around her face, immediately referencing the seminal performance piece by Lorraine O'Grady, Art Is, 1983. Art Is, was like a vintage flash mob piece, in which the artist brought golden frames to an African-American Day Parade in Harlem, and prompted attendees to pose within them, instantly creating a collective performance piece.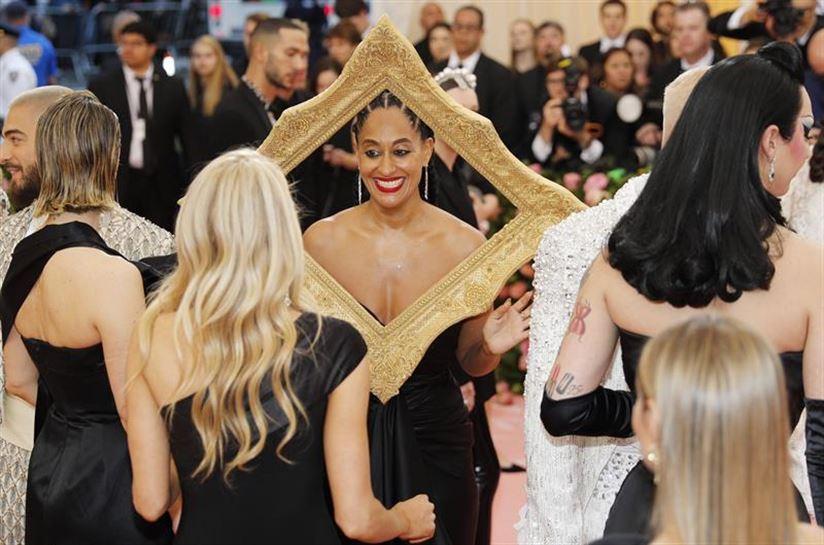 In 2015 O'Grady's work was the subject of a Studio Museum in Harlem show, which curated documentary photographs of young people joyously expressing themselves, with the frames that O'Grady provided. For O'Grady, the piece was a way of bringing art into everyday life. Though the Blackish star has made no comment about the source of the creativity for her stylist Kara Welch, perhaps for Ellis Ross, it was about bringing undermentioned and underrepresented art into a mainstream conversation.