Genevieve Gaignard: Black White and Red All Over
By Danny Dunson
21 th May , 2019

Genevieve Gaignard's solo show "Black White and Red All Over" is in its closing week of the exhibition at the Monique Meloche Gallery in Chicago, ending this Friday, May 24th. The Los Angeles based multi-media artist has made her mark on the Windy City, at the acclaimed Chicago gallery that represents notable artists like Sanford Biggers and Ebony G. Patterson. Gaignard's work uses photography, installation, sculpture, and collage to take on hard-hitting themes such as gender, class, and racism in America.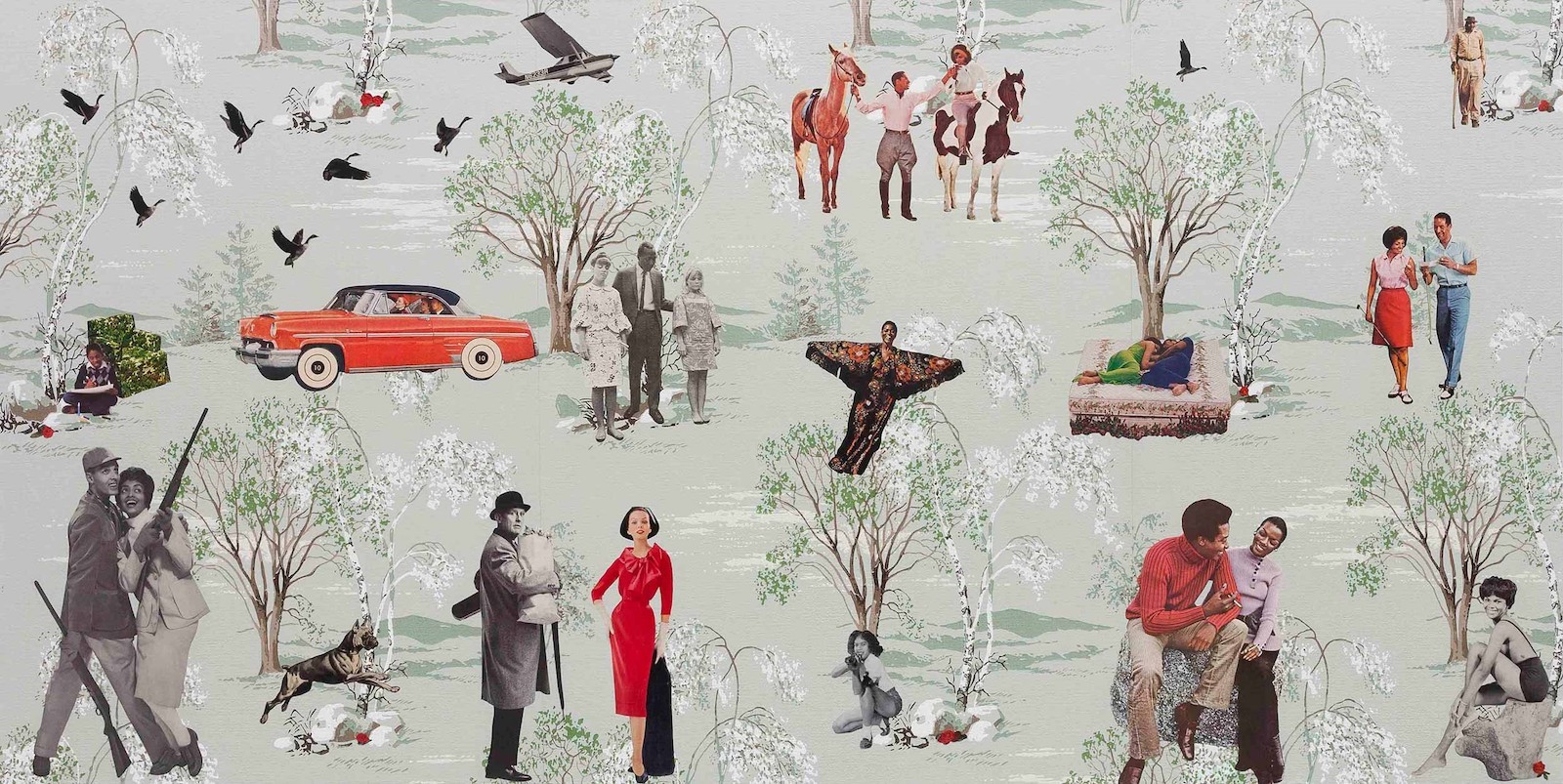 Though topics of feminism, racism, and identity politics are very timely, for Gaignard, they are very personal. The artist who is the child of a black father and white mother, grappled with issues of identity and visibility while growing up in a predominately white neighborhood, and pulls from objects that are aligned with American collective memory to express her stories.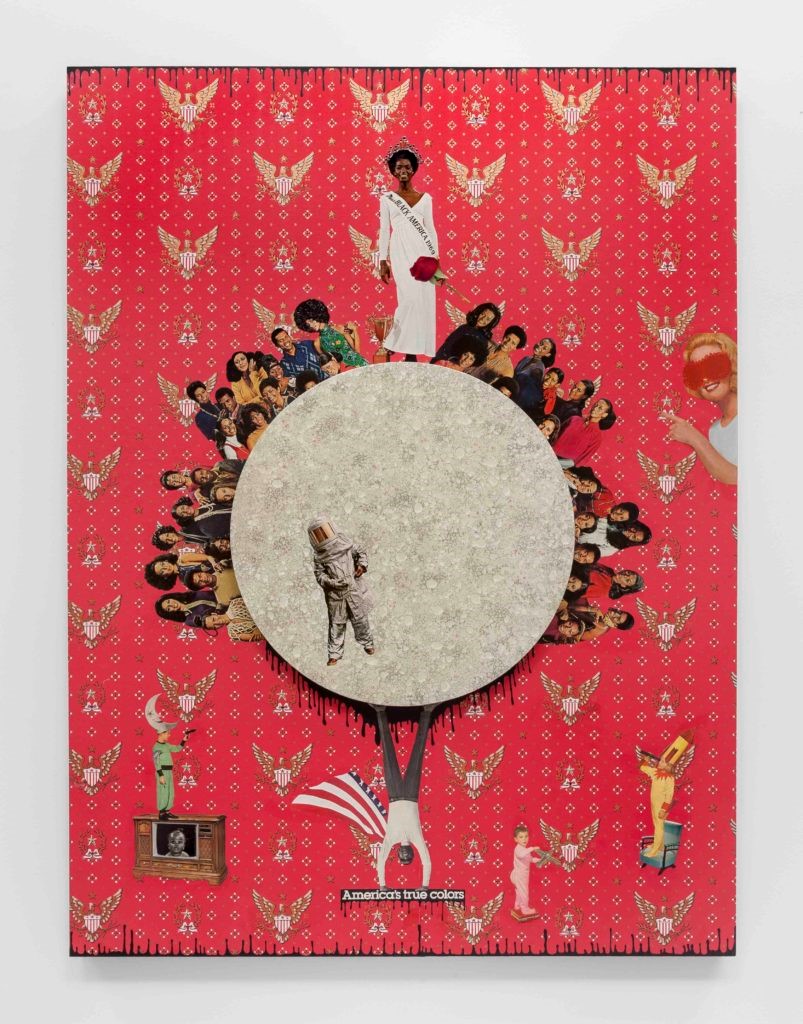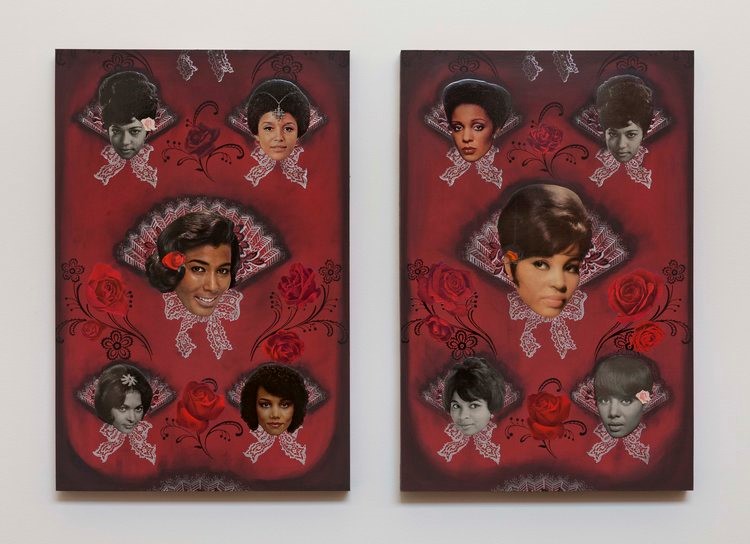 Throughout her entire practice, Gaignard has combined iconography that is based in the cultural aesthetic canon of both blackness and whiteness. In "Black White and Red All Over" the work confronts the viewer, interrogating our own placement within systemic sexism, racism, classism, and any other ism that is deeply embedded within American culture. The works of "Black White and Red All Over" have been birthed from the artist's personal narrative, however, the works serve as a mirror to the viewer, ultimately expressing feelings of connection to the artist through the themes she presents.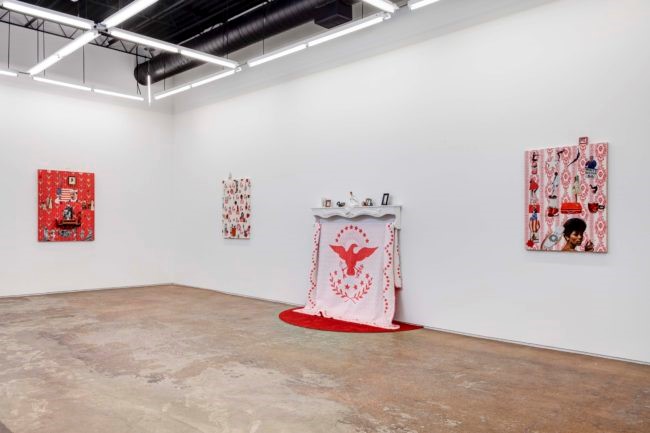 Using nostalgia as a guiding element for her practice, Gaignard collects imagery sourced from vintage periodicals that promoted American values, ranging from the 1940s to the 1980s. Cut images from Ebony, Jet, Home & Garden and Life appear in collages as a profound reminder of how society has not advanced as much as many think it has, and racism still exist as powerfully as before. One of the meditative aspects of this exhibition is presented through Gaignard's juxtaposing of imagery through her arrangement of classic visual memorabilia and reimagined phenomenal moments in pop culture. Gaignard's compositions evoke stark wit and a sense of humor that changes the original context of the imagery to promote a new narrative, a new value system.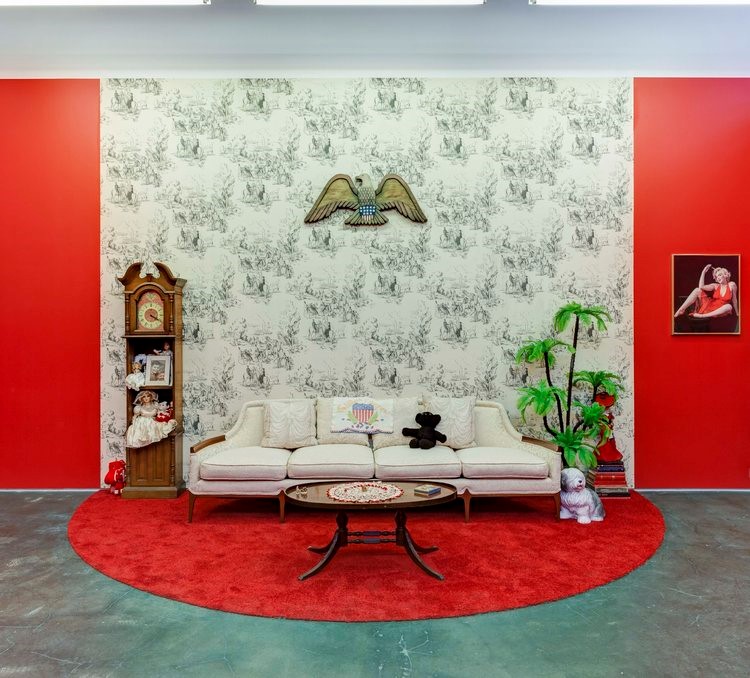 The Monique Meloche Gallery space appears transformed, with the site-specific, imagined installation of an oppressor's living room. The room is composed of quotidian domestic objects; the focal point is a bold Confederate-red painted wall, framing a vintage toile wallpaper, with rendered depictions of an enslaved family.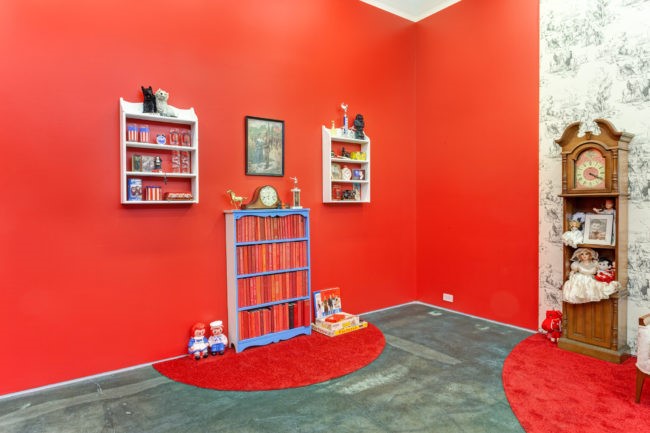 This alarming artistic move slows down the viewing process and facilitates a deeper analysis of the various objects presented. Antebellum memorabilia like ceramic Mammy figurines that are still treasured in many homes today, appear in the exhibition along with archetypal symbolism like the American Eagle, and a pinup image of actress and sex symbol, Marilyn Monroe. Throughout the exhibition a delicate dance between hyper-visibility and invisibility is at play, leading one to question what is missing, why is it missing, and who has the power over the transmitting of stories?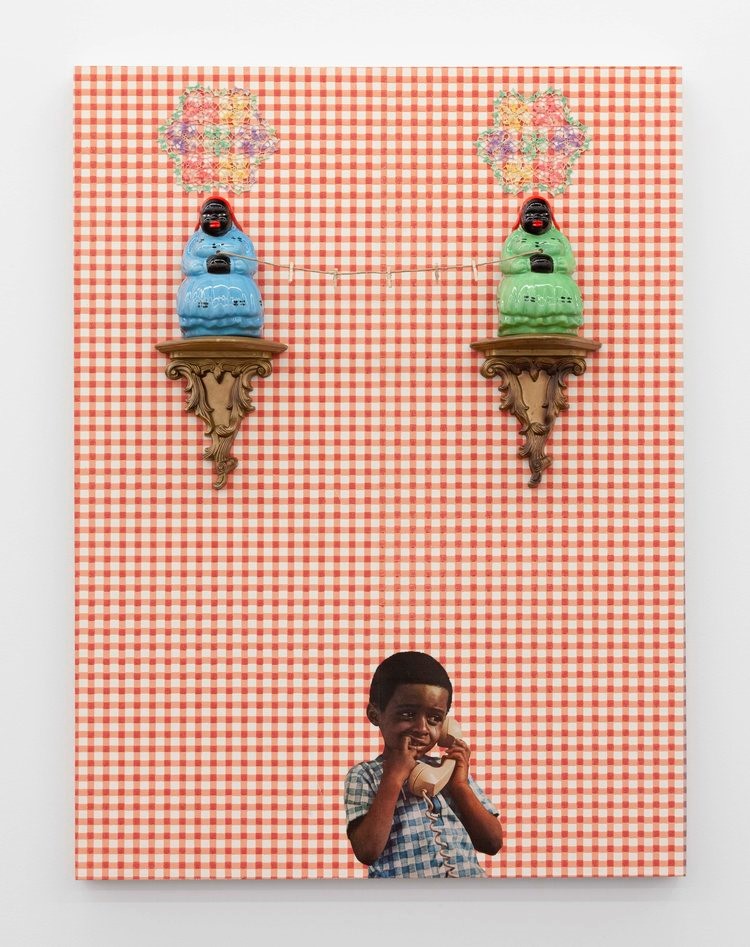 Gaignard's own subjectivity is integrated throughout her art practice; being a biracial woman, who is often assumed to be white, she struggled with feelings of invisibility. Profoundly, Gaignard's work that is based on her own existence within the intersectionality of race and culture, reveals to us that we all grapple with the same issues. Women and people of color, particularly African Americans have dealt with feeling invisible, and unrepresented, no matter the diverse racial makeup of their lineage. Gaignard generously employs her own experiences visually through the lens of camp, pop culture, and nostalgia, in a transparent dialogue that exposes sites of trauma and fierce vulnerability.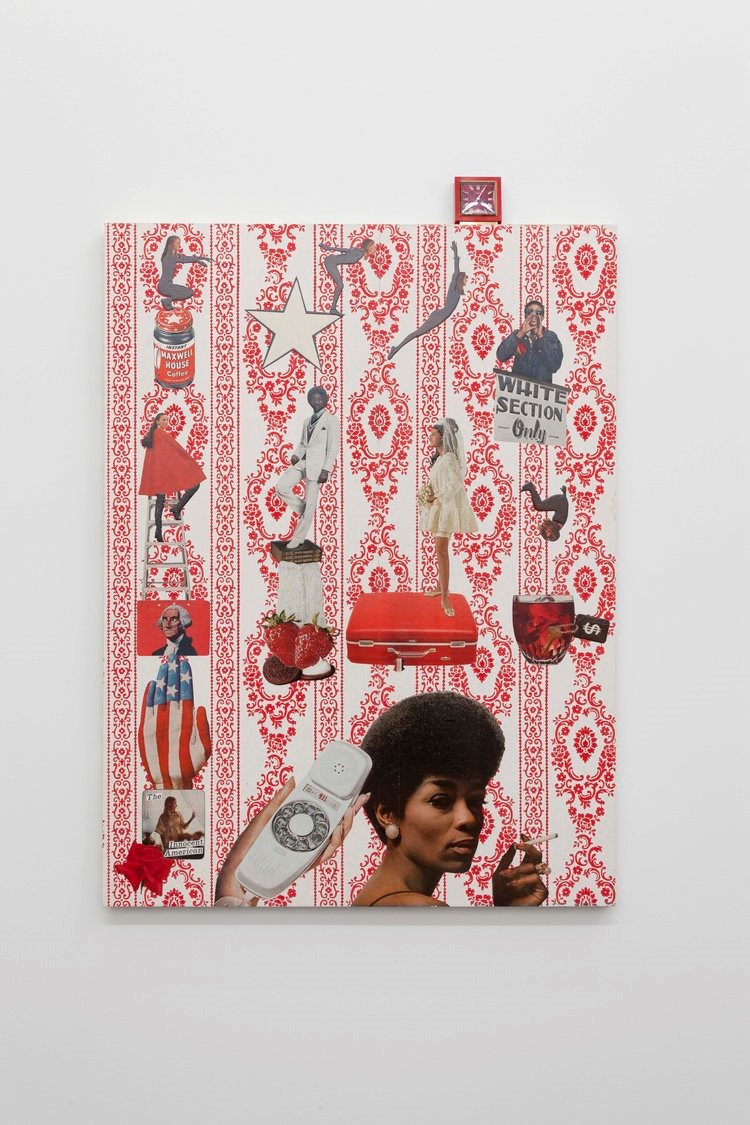 About the Artist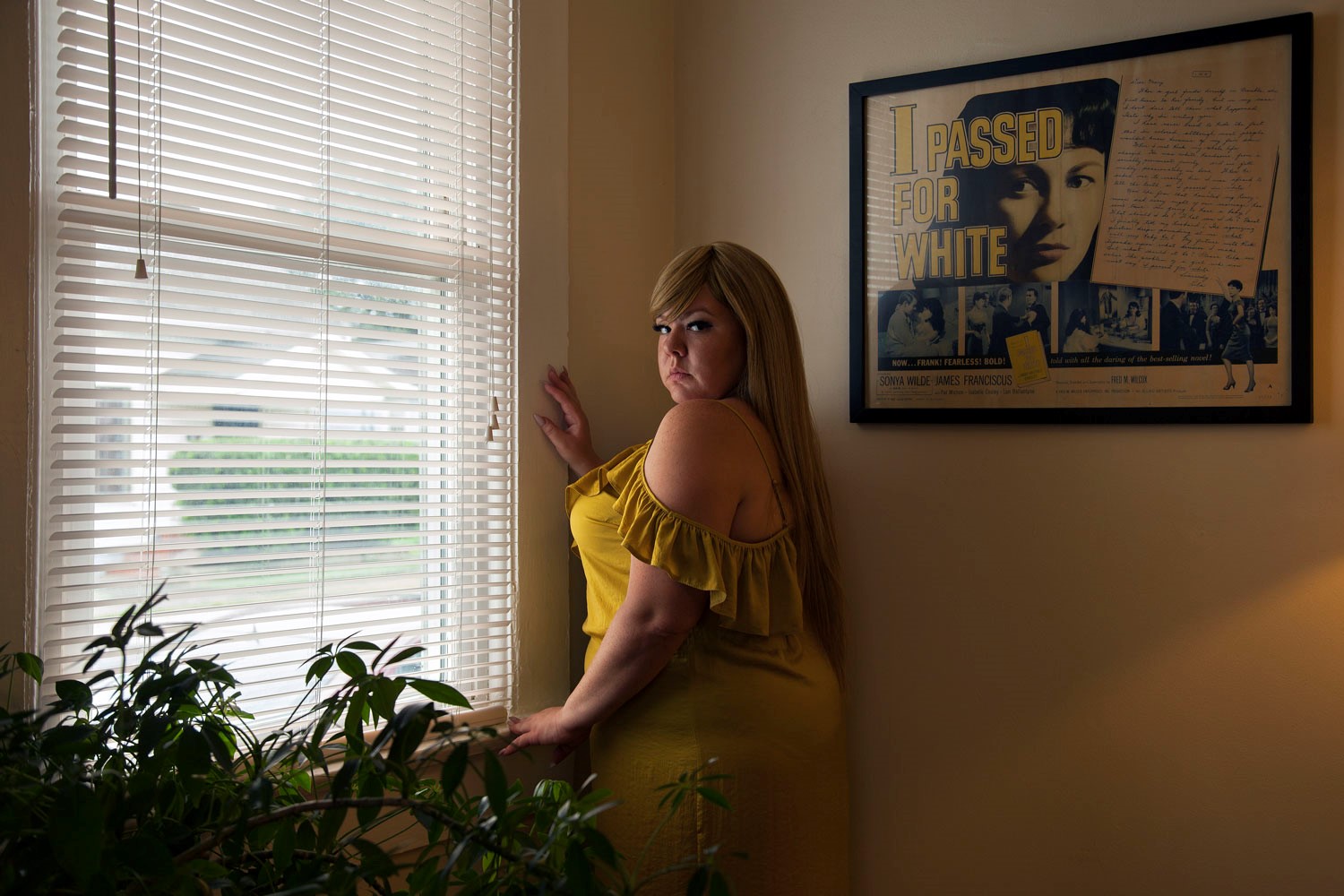 Genevieve Gaignard (b. 1981, Orange, MA) received her BFA in Photography from Massachusetts College of Art and Design, Boston (2007), and her MFA in Photography from Yale University, New Haven (2014). She has had several solo exhibitions including Counterfeit Currency, The FLAG Art Foundation, New York (2018); Hidden Fences, Praz-Delavallade, Paris, France (2018); Prospect 4: The Lotus in Spite of the Swamp, curated by Trevor Schoonmaker, New Orleans (2017); In Passing, Houston Center for Photography, Houston (2017); The Powder Room, Shulamit Nazarian, Los Angeles (2017); Smell the Roses, California African American Museum, Los Angeles (2016), among others. Her work has been included in numerous group exhibitions, including Personal Space, Crystal Bridges Museum of American Art, Bentonville, AR (2018); the Daegu Biennial, curated by Ami Barak, Daegu, South Korea (2018); Talisman in the Age of Difference, curated by Yinka Shonibare MBE; Stephen Friedman Gallery, London, UK (2018); and Fictions, The Studio Museum in Harlem (2017), among others. Select public collections include The Art Institute of Chicago; The Studio Museum in Harlem; California African American Museum, Los Angeles; Pérez Art Museum Miami; The Nasher Museum of Art, Durham, NC; The FLAG Art Foundation, New York; and the San Jose Museum of Art, CA. The artist lives and works in Los Angeles.