Frieze Art Fair 2019 Recap
By Victoria L.
9 th May , 2019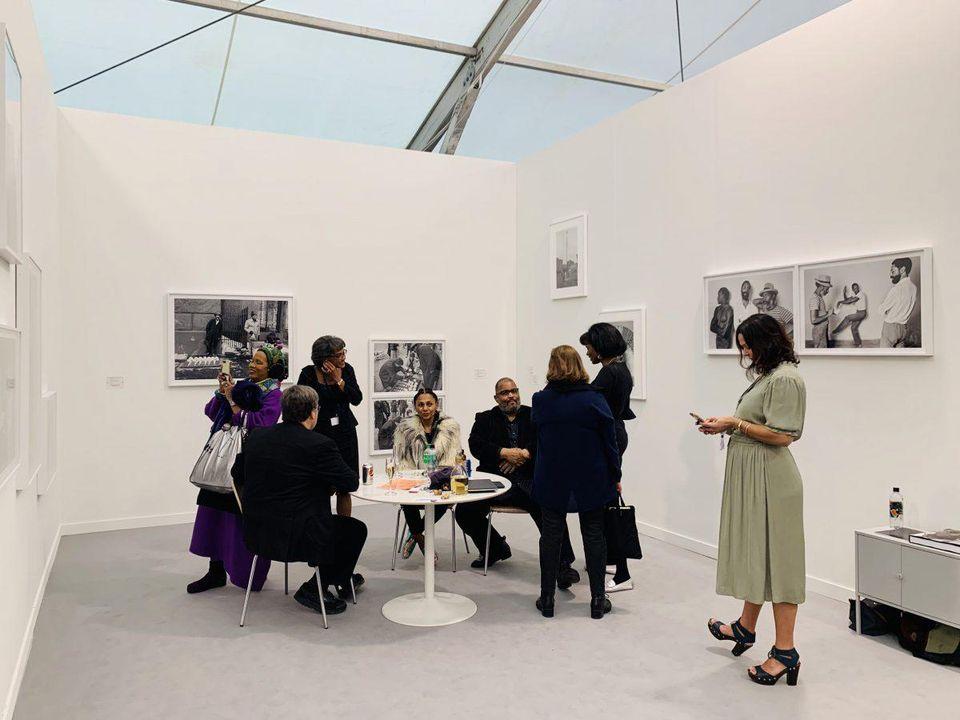 This past weekend marked the close of the eighth edition of New York Frieze Art Fair, an outpost of the Frieze Art Fair, which started in London in 2003. New York's Frieze Art Fair started off the week awarding the Frieze Stand Prize to Jenkins Johnson Gallery for its exceptional solo exhibition of Ming Smith. Curated by Perez Art Museum's Franklin Sirmans, the presentation paid homage to the pioneering non-profit arts organization of Just Above Midtown (JAM) and its founder Linda Goode Bryant.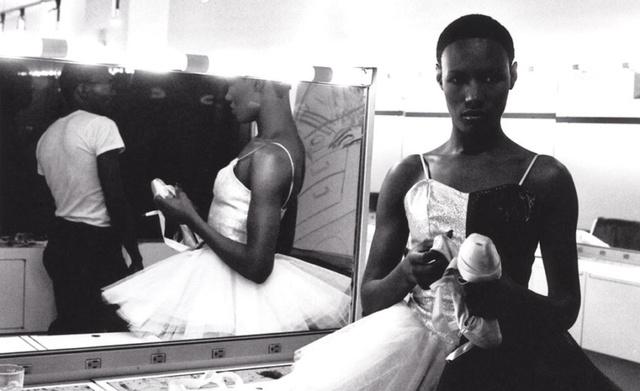 Born in Detroit, Michigan and raised in Columbus, Ohio, Smith was the first black female photographer collected by the Museum of Modern Art, the first female member of Kamoinge, and one of the first African American women to break the color barrier in modeling alongside Grace Jones.
When Bryant started JAM, she was 23 and serving as the director of education at the Studio Museum in Harlem. She established JAM in a white-collar gallery district where white-owned galleries only showed work by white artists. Smith's selection within the JAM section of the booth unveiled rare vintage prints from the 1970s and early '80s archives. Pieces by Dawoud Bey, Lorraine O'Grady, Howardena Pindell, and Lorna Simpson were also on display and for sale.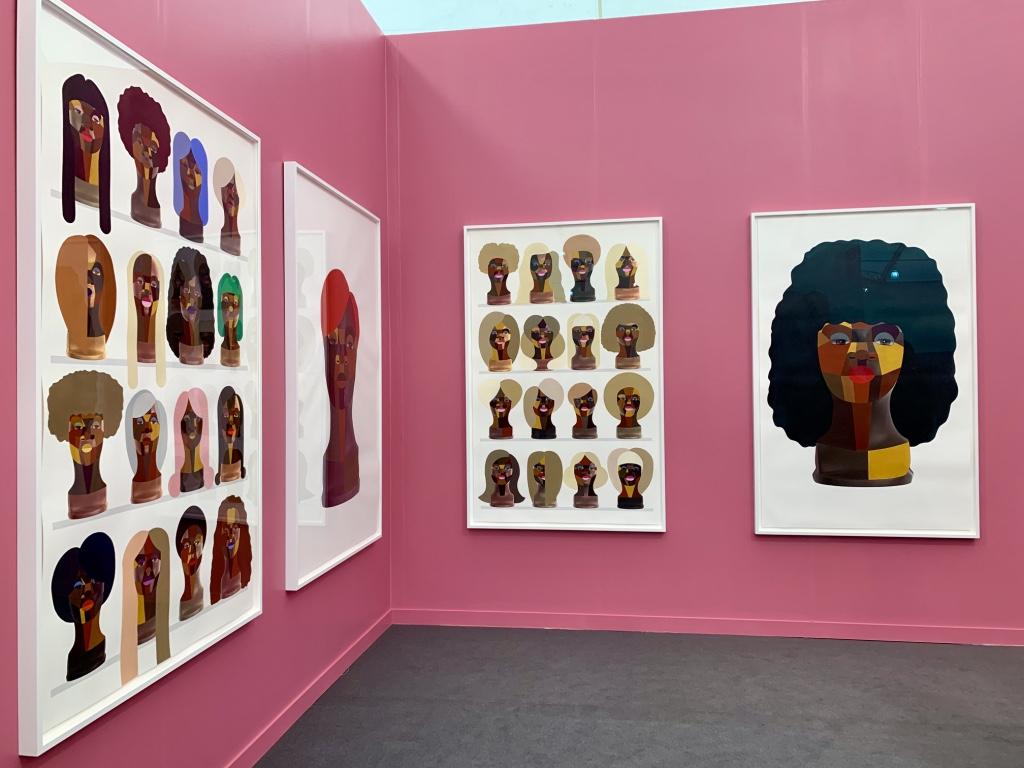 Derrick Adams had another successful Frieze in which he debuted a solo showcase with London-based Vigo Gallery. The Brooklyn based artist work sold-out before the fair even began. During the week, Adams was honored by Tumblr at an intimate dinner at Public Hotel for all of his accomplishments in the art space. Derrick Adams's work critically commentates on Black identity by creating stylized idioms of pop culture. In the Style Variations series, Adams references contemporary Black hairstyling, elevating cultural hairstyles to iconography. The exhibition resembled storefront wig displays of beauty supply stores windows and hair salons of Black neighborhoods.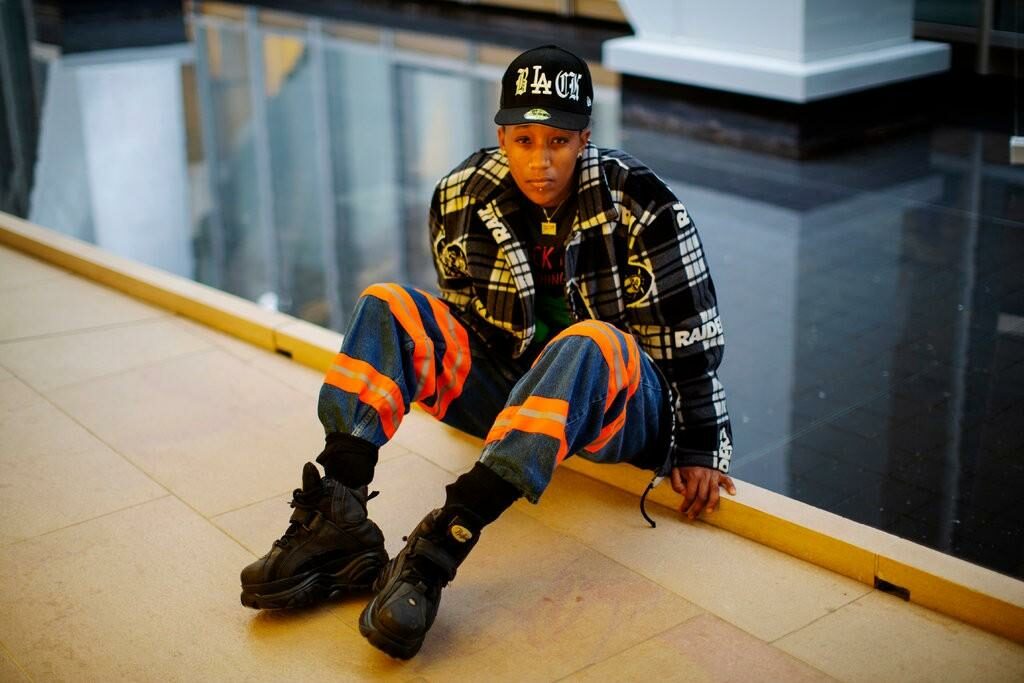 Winner of this year's Frieze Artist Award Lauren Halsey's commissioned 'monument to Los Angeles' premiered at the north entrance—two ivory pillars dedicated to late rapper Nipsey Hussle.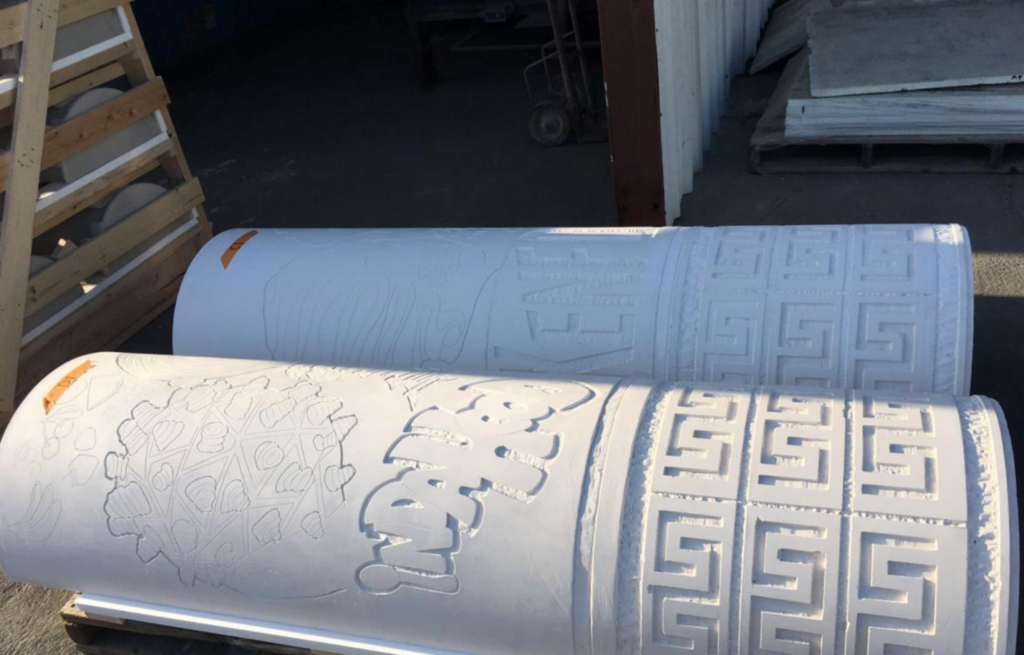 The artist is quoted describing the work as an "architectural intervention in which fantasy architecture, neighborhood ephemera, images of Du-rag models, Black ideological pyramid worlds and Afrofuturist myth coincide and coalesce."
Frieze visitors were invited to move between and around the structures, confronting carving, drawing, aspirational notes, and objects that speak to the conditions of marginalized communities and suggest possibilities for alternate, progressive realities.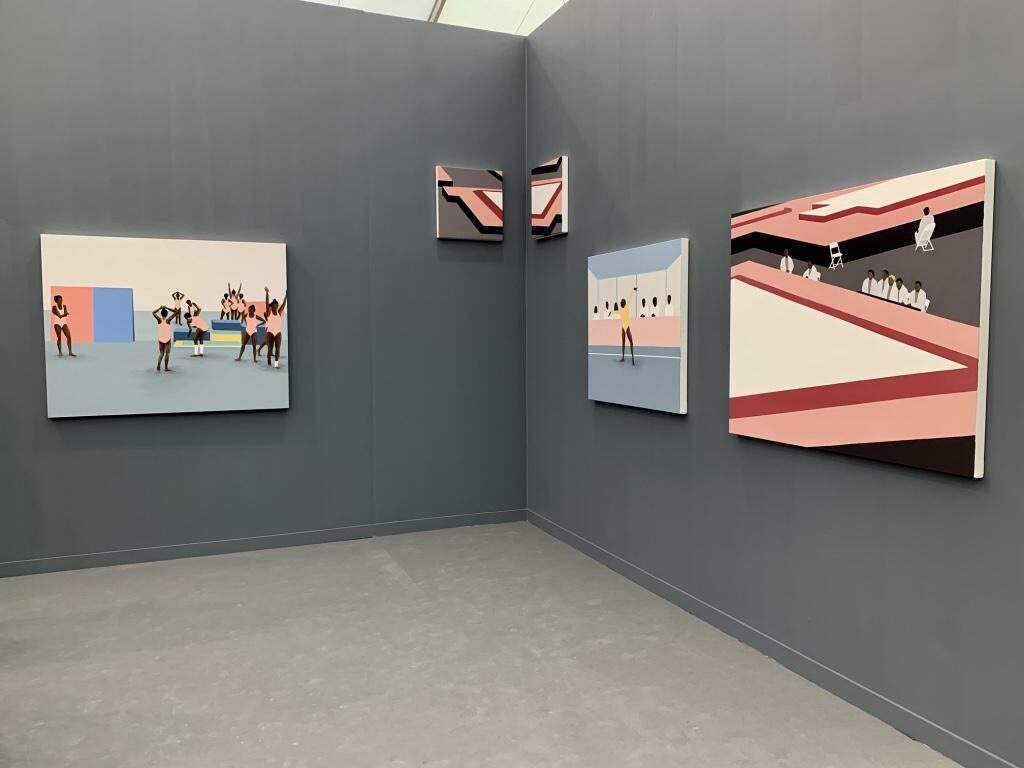 The New York native, Johannesburg-based artist Thenjiwe Niki Nkosi debuted new works depicting black gymnasts at work. Minimalist and clean, the paintings emphasized the gymnasts' specific poses and movements through line, color, and visual clarity.
"It's partly about the black body in white space and under scrutiny," Mariane Ibrahim, the gallery founder explained to ARTnews. "It's about who decides what's in good taste, and it's a metaphor for the high degree of exposure that reaching excellence demands."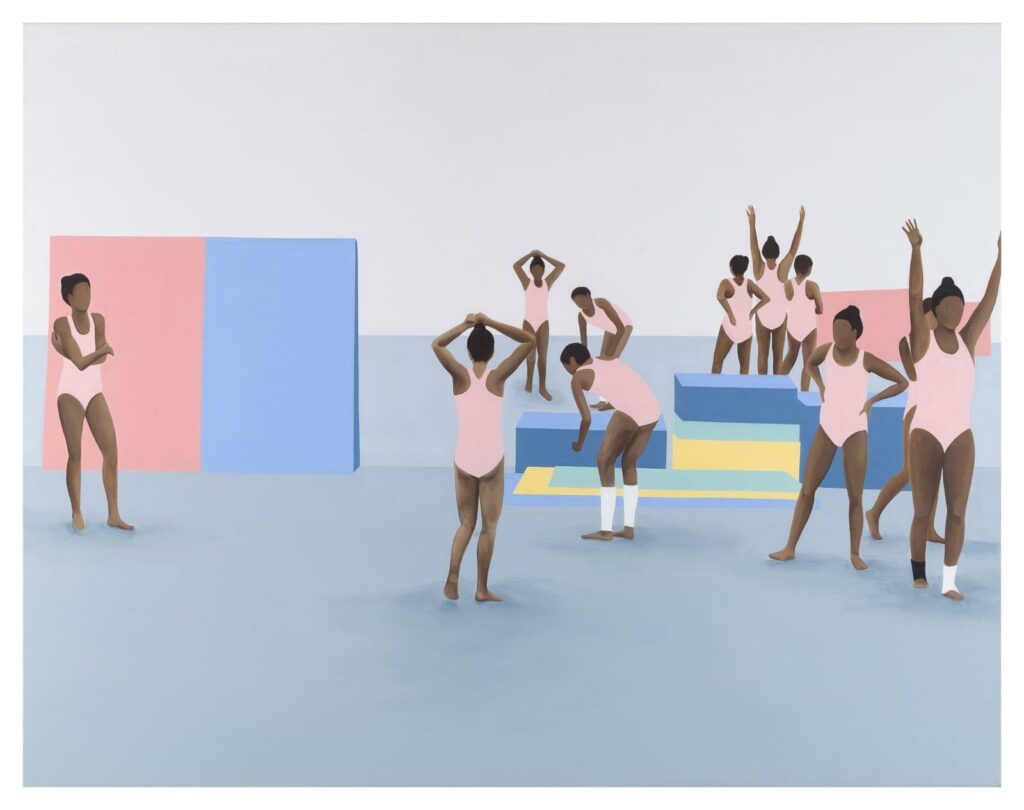 All of the new oil-on-canvas paintings sold including the above image, which was acquired by hip-hop entrepreneur Swizz Beats for the Dean Collection. The presentation was not switched out throughout the fair's run.
Kota Ezawa's "The Simpson Verdict" (2002) video installation went for around $70,000. The piece about the O.J. Simpson verdict replays a climactic three minutes of the reading out of the jury's decision. The German artist reconstructed the original by hand. "I drew all the hands, eyes and figures using drawing software and recreated all the motions, trying to simulate the motions of the people in the video," Ezawa told SFGate back in 2002. "What results is very stylized, but it's an honest effort at translation."