Curator Spotlight: Graham Feyl
By Danny Dunson
13 th July , 2019
Chicago based curator Graham Feyl sat down with ArtX Editor in Chief Danny Dunson to discuss the art that inspires him most, the importance of storytelling and communicating with artists, and what it was like curating his first show.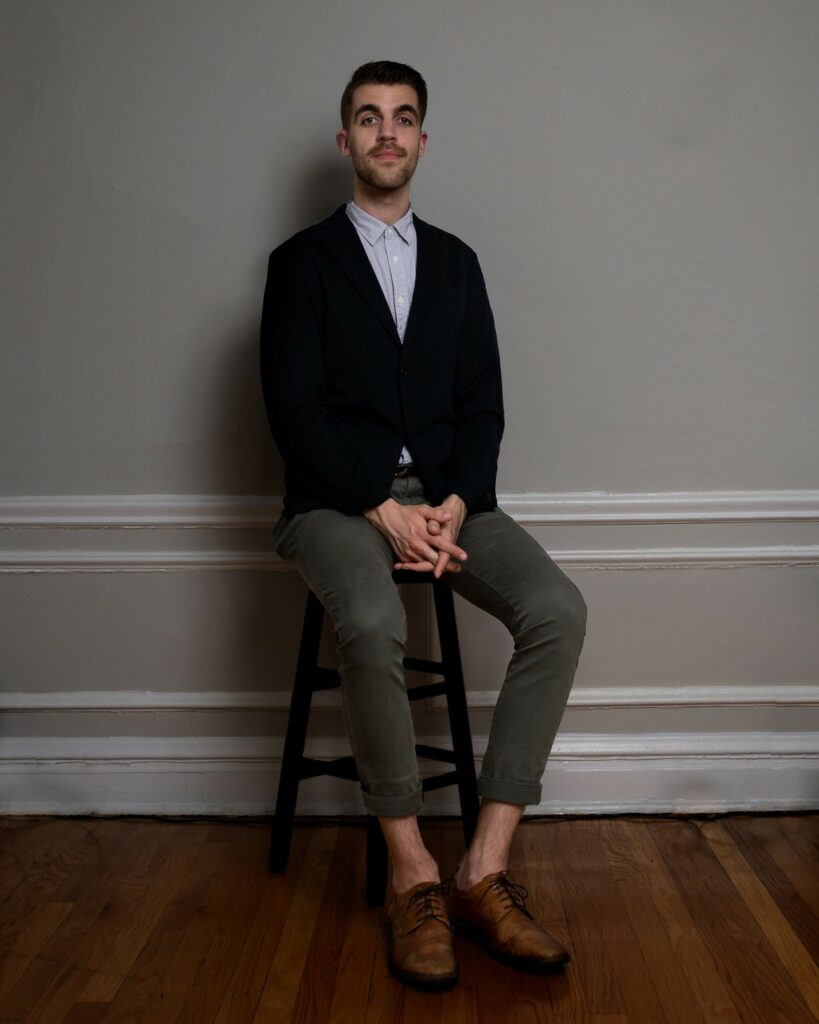 Graham Feyl is a graduate student and emerging curator based in Chicago. Graham recently finished a curatorial residency at The Overlook, a multidisciplinary art space, whose mission is to "provide emerging women artists, queer artists, and artists of color a platform to further their practice through residencies, programming, and collaborative projects." He completed his undergraduate degree in Art History at the University of Illinois Chicago and just completed his first year of grad school at the School of the Art Institute of Chicago, leaving one year in which he will earn a Master's in Modern and Contemporary Art History. ArtX sat down with Graham to discuss the art that inspires him most, and what it was like curating his first show earlier this year.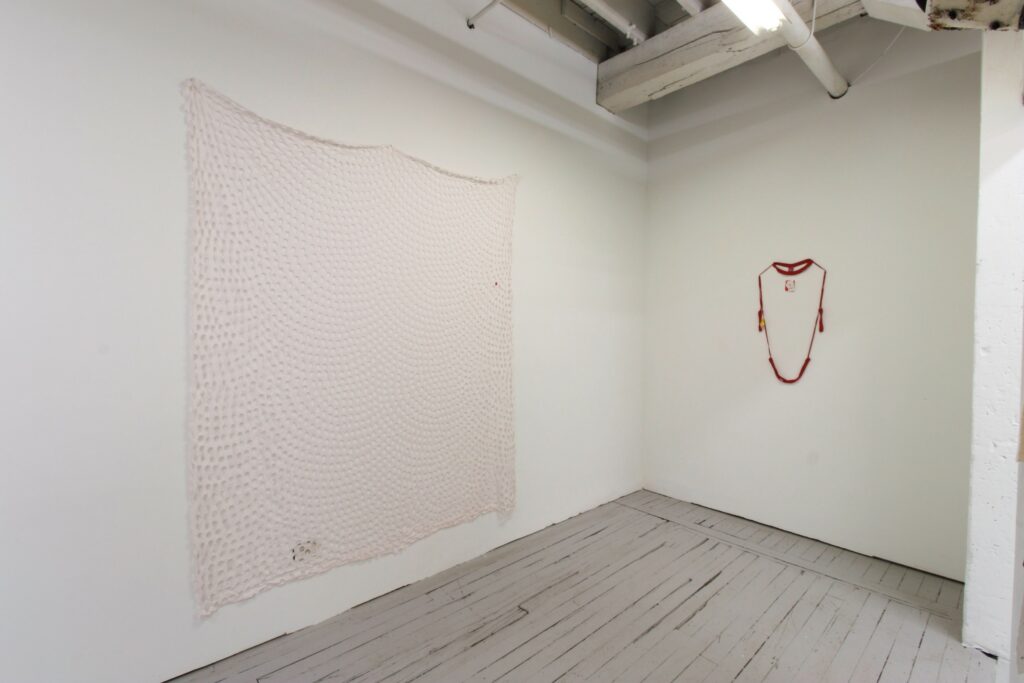 I want to talk about your first curation at Anna's Gallery through your residency and how that came about.
My residency was through a space called The Overlook, founded by Jen Sova. I was finishing my undergraduate thesis on Felix Gonzales-Torres, and I was telling Jen about my interests in queer theory, and queer performance theory. We connected more once I graduated. Jen created The Overlook because she was very tired of the typical gallery space and wanted to create a space for queer artists, artists of color, and femme artists, to have a platform and space to produce work that they wanted to see but is not typically seen in traditional spaces. Jen asked if I would be the first curatorial resident for The Overlook and of course, I said YES!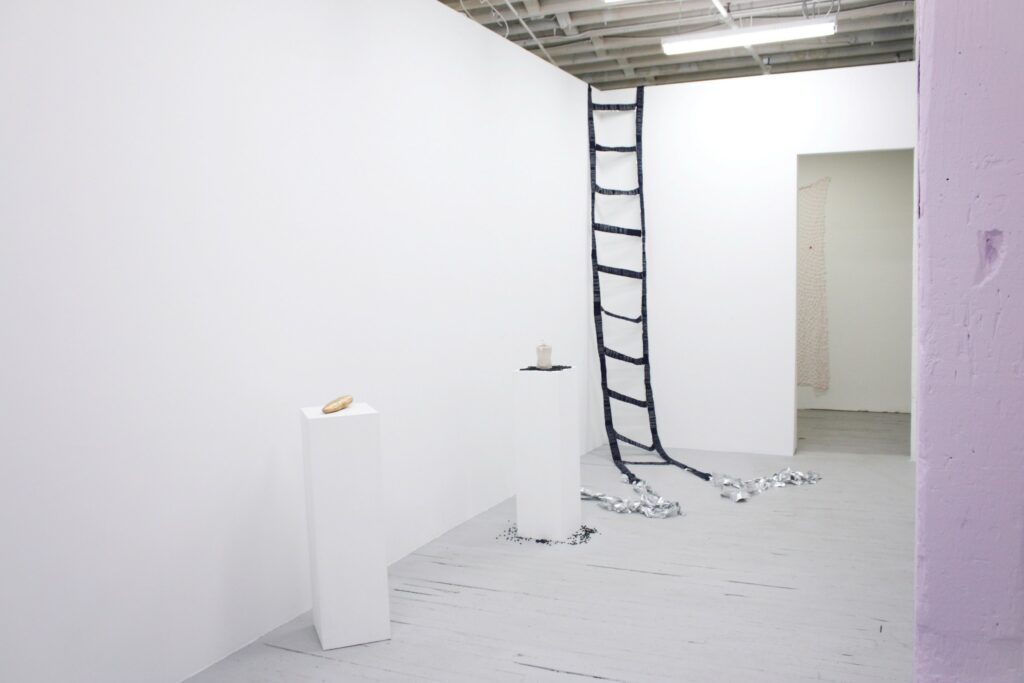 Did you immediately know what your first show would be?
Well, Jen and I talked a lot. I had a tough time deciding what I wanted to do for a show. There were a lot of concepts bouncing around, and I just wasn't sure where to start. I always said to myself that I wanted to be a curator, but I hadn't considered how nuanced much of the work that goes into it is.
What is something that you learned about the curatorial process, that you didn't know before this curatorial residency?
Being completely transparent with artists— that is key with working with artists, being aware and transparent about what artists need, and what I need as a curator. I was in conversation with the artists all the time because I wanted them to feel heard. I used those conversations to form the catalog essays I wrote about each artist. I wanted to speak about the artists in the best light. If I'm showing the work, I want to get to know the artists, rather than falling into the myth of the object being the entire embodiment of the artist. I want to be acquainted with the work and the creator. I want to know the artist as a person.
Don't you think, as art historians, curators, writers, that often times the personhood of the artist is neglected? We don't always consider the fact that the object came from a human.
Yes and there's the idea of the object, but the object turning into the art object. So the object has this clout around it, this aura, like Walter Benjamin's "the aura of the object" (The Work of Art in the Age of Mechanical Reproduction, 1935) and it's just so far removed from the personhood of the artist. Then we also think of artists as these mythic beings. Since I was doing my first show about objecthood and materiality, it was a very important aspect to have both the artists and their work in conversation.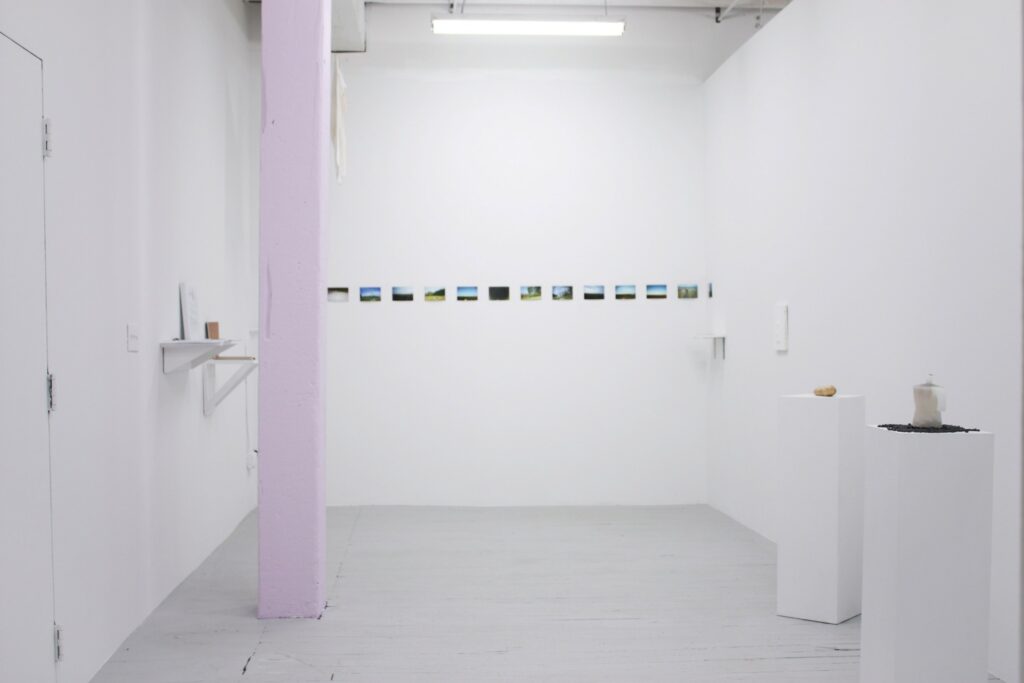 That's a great segue to talk about the show. Give us the official title.
Object, Item, Material, Me
I know how much you love the art of Gonzales-Torres, I thought about the piece…Portrait of Ross in LA, 1991, how we have the artist, Gonzales-Torres, and then this metaphorical dispensation of his lover's body in the form of candy, vis-à-vis the holy sacrament of communion. In the Catholic church, they call it the transfiguration of Christ, the consuming of Christ's body. I think this conversation and these themes of artist and objects are at play here.
Yes, the Untitled, Portrait of Ross…, the candy pile, is discussed in my undergrad thesis. I was thinking about the consumption of the queer body and what we understand as the heteronormative gallery space. Gallery spaces try to be neutral, but nothing is ever really neutral. I was thinking of the idea of the condensed portrait made of candy and into the actual weight of a person who was dying of AIDS, and how it's about the material remnants of being, like even with the candy wrapper that's left after a person eats it. Gonzales-Torres was always working with this idea of the material as the representation of the self, and physical entities like blood and water.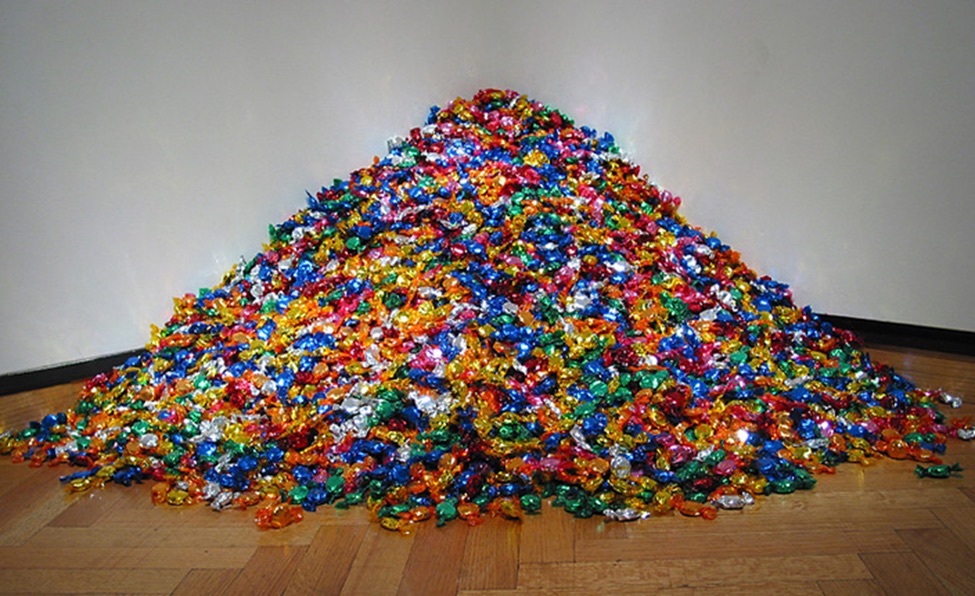 How long did it take you to prepare for the show?
The residency started in May, and I had an amazing line up of artists who were interested in working with me after we published a call for artists, and I used my own connections to artists I knew. So it was four months of me talking to the artists and writing essays. When the residency ended in August and I was starting my first semester of graduate school, I thought it was a good time to partner with gallery space to install the show. That's when Anna's Gallery and The Overlook partnered. It was close to December 2018, when I started gathering pieces of work because some of the artists weren't local. By February 2019 we were ready to install.
I have to say, it was a very impressive curatorial offering especially with this being your debut show. Did you have guidance and mentorship during the process? How important was it to have help in getting you started?
Yes, this was my first solo curation, so mentorship and guidance was super important. I met with mentors a lot during this process. When it came to the curatorial process, sometimes I would get lost in the process of visual flow, and how the works were in context with other works, so it was great to have mentor's like Alden Burke and Stephanie Koch, as well as Jen, helping me through the process. There is so much that goes into installing a show logistically, and it was great that I had their help.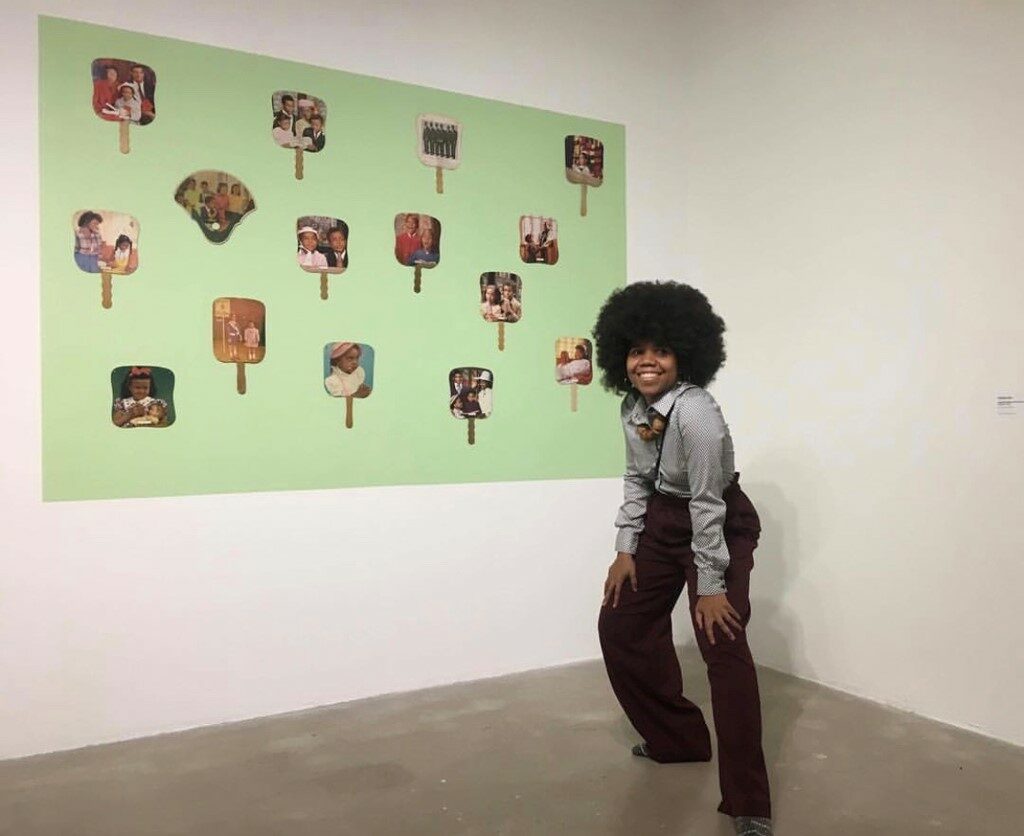 I want to talk about the piece of work in the show that stood out the most for me. The piece Building Virtue: A Study (2017-continuing) by Janelle Miller who is this young a multi-disciplinary artist and archivist. I was interested in how her work reclaims historical narratives rooted within Black culture. Her church fan installation really hit home for me as an object.
Janelle showed me one of her fans once, and she told me that she got it off of eBay. I started the think about the transactions of ideas. The fans were created for the worship experience, and sometimes brought home by parishioners, and then decades later, somehow ended up on eBay. I started the think about the vitality of these objects. I thought about the sacred and the profane— these angelic images of people being used in this quotidian way, as a fan to cool yourself down. It started this onslaught of thinking about how underrepresented artists are working with objects that are extensions of themselves and of their own experiences to make art. These artworks speak to their lived experiences. I thought about how many Queer artists engage with soft sculpture, and how queerness is malleable, and what does it mean to challenge the static stiffness of traditional heteronormativity with object making that is soft and fluid? Or with female artists embracing concepts with decorative arts and handicraft, and deploying these concepts as high art, challenging what was traditionally considered women's work.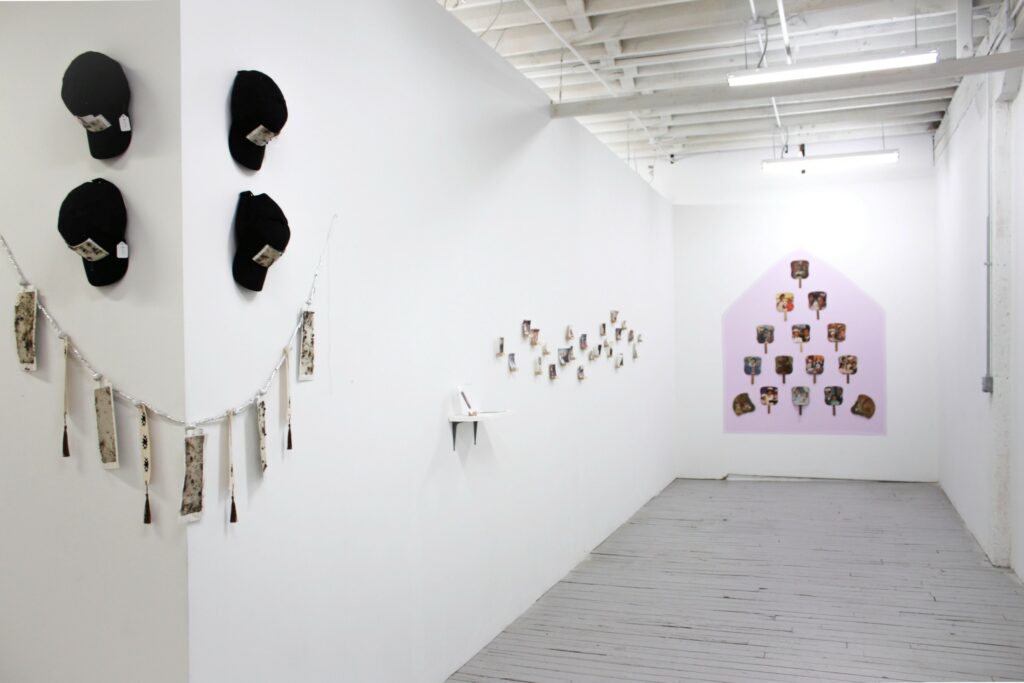 I thought about Jane Bennett's book Vibrant Matter: A Political Ecology of Things, and how it is about new materiality and ecosystems. It was the catalyst of holding Janelle's fan in my hand and realizing that as a white person I've never had an experience of this object. I realized that there is a whole history that I will never be able to fully understand and experience. Janelle often talks about the importance of preserving black imagery and black representation, so I started thinking about the life of the object, and these church fans, and how these fans aren't really used in churches anymore. Now they exist on eBay, in antique shops, and as art objects.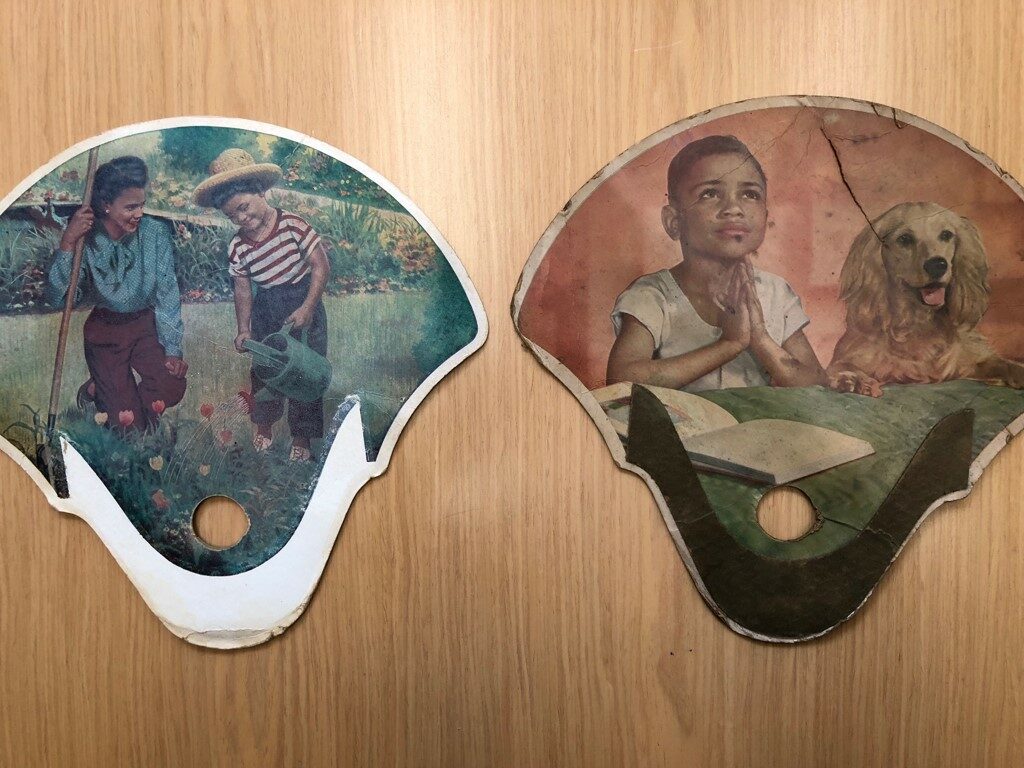 I felt your first show was very well done, it was resolved and fully realized. I would not have thought this was your debut as a curator.
Thank you! I think it went well because I realized that it's all about the conversation between all the pieces. Not just thinking about the flow of the space but figuring out how each piece will speak to each other, was the most difficult aspect for me. And I had to go through the process without having the workup and using mockups and being flexible to change. It was difficult, but it ended up being the most rewarding part of the process— letting the objects tell the story and lead the conversation.