ARTIST SPOTLIGHT: KEVIN DEMERY
By Danny Dunson
17 th May , 2019
California Artist, Kevin Demery, Debuts His First International Solo Show in Germany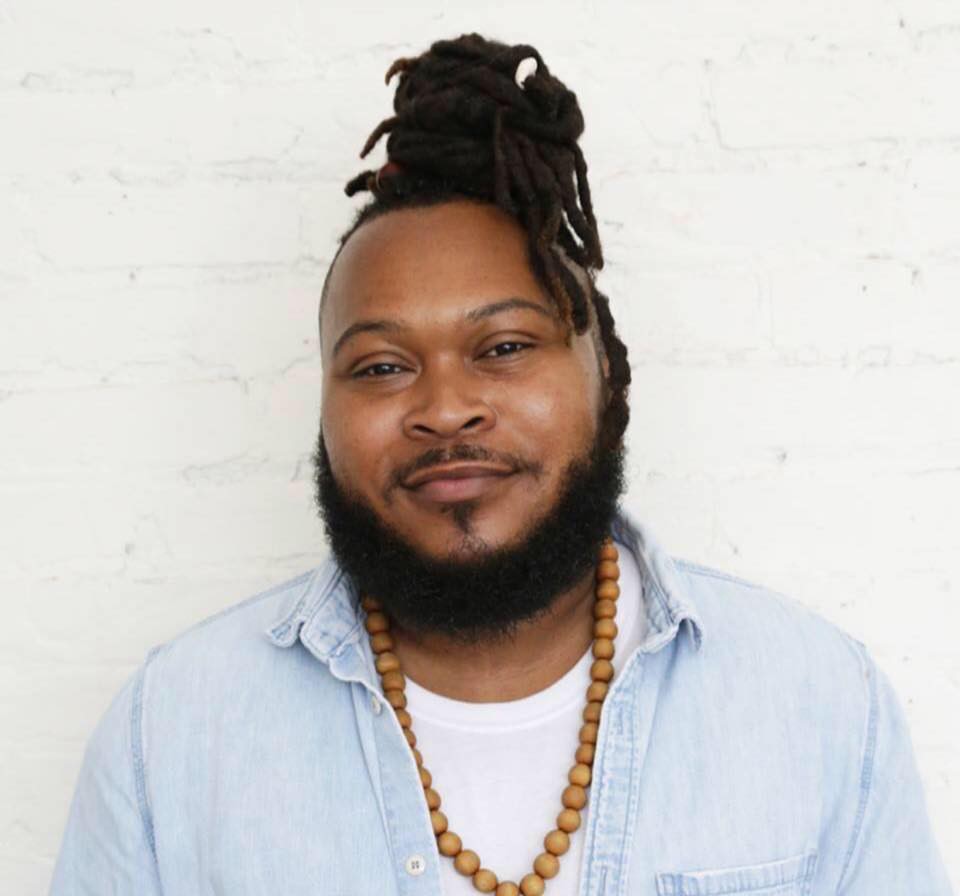 Kevin Demery: Power Lines
May 16 – June 22, 2019
Sakhile&Me®
Kevin Demery's works explore the interplay between U.S. history and signifiers of power and invite us to move between their potent aesthetic of geometric color blocks with objects hanging from ropes or chains that are draped over the canvas and recurring motifs of historical violence, surveillance, and childhood trauma. Power Lines is Kevin Demery's first show in Germany.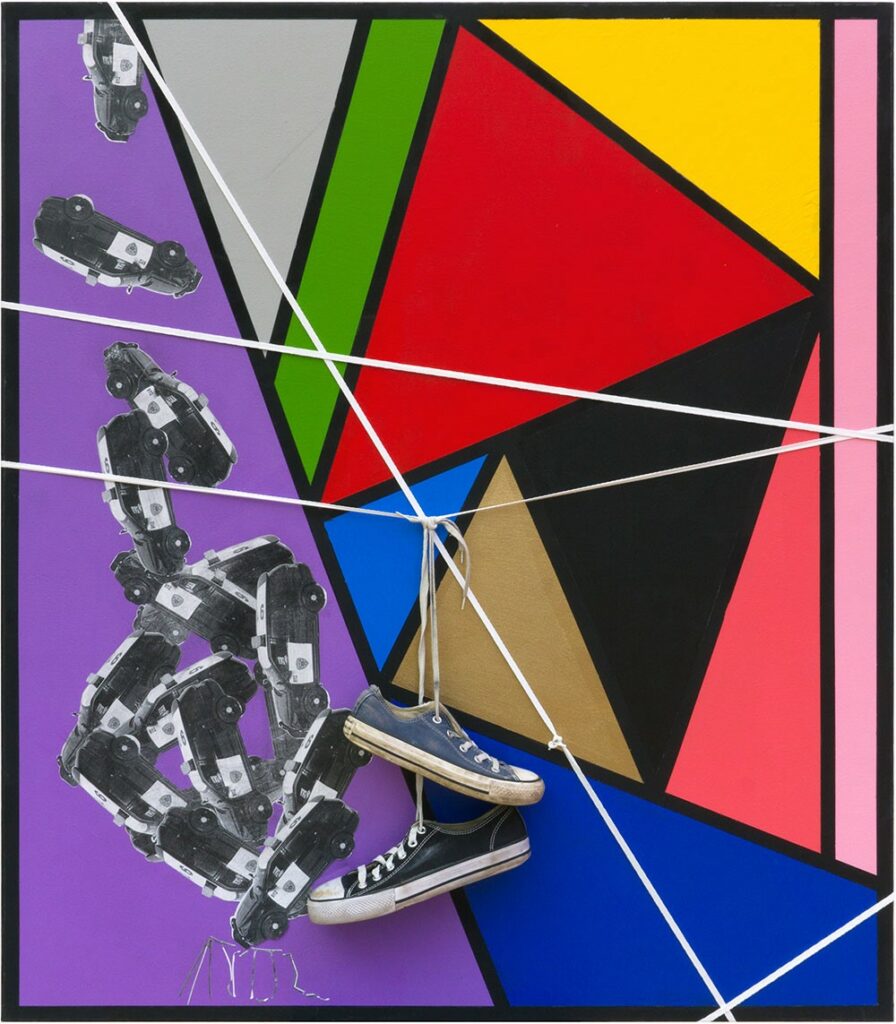 Danny Dunson, Editor in Chief of ArtX, sat down with the artist just days before his solo exhibition opening. In a very intimate and transparent conversation that took place in a Chicago coffee shop, Demery shed light on the process and challenges of a young artist. Below is an edited section of the conversation between Danny and Kevin, the full interview is available, printed for the exhibition catalog for Sakhil & Me Gallery.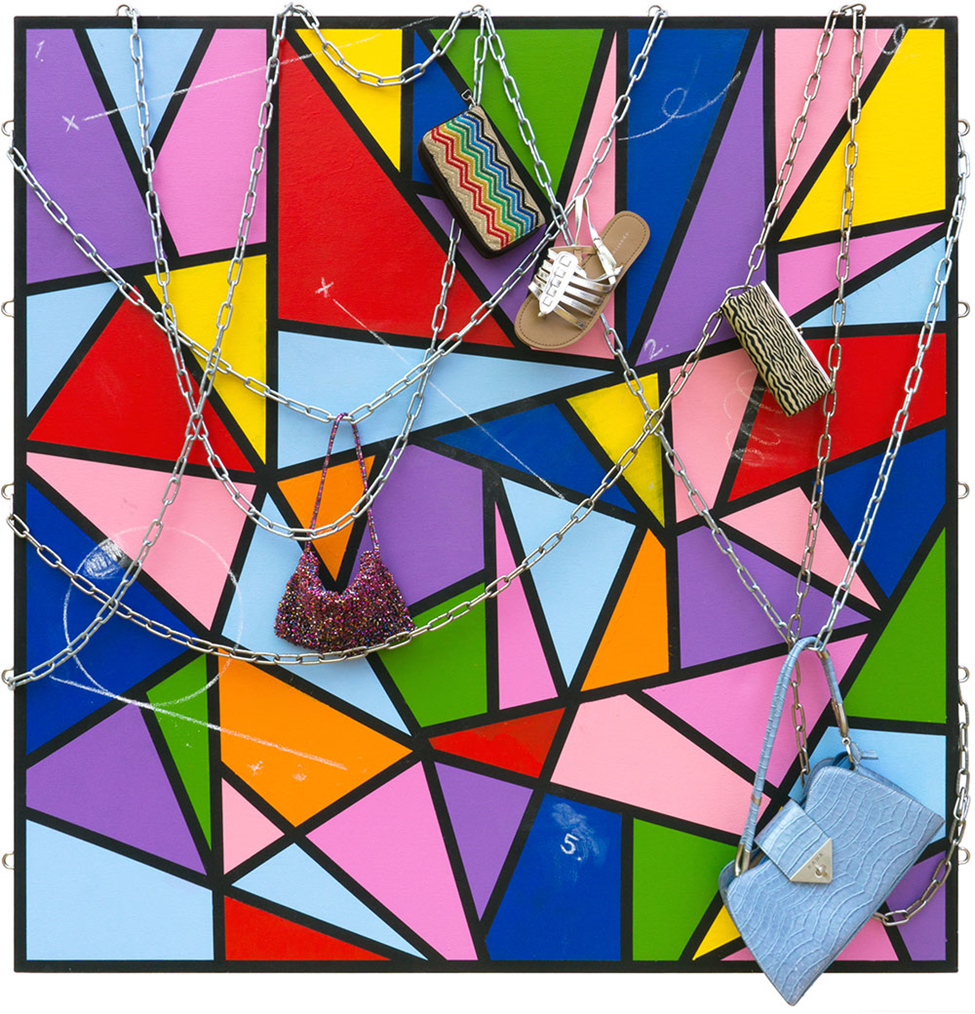 Danny Dunson: You learned how to play the piano as a kid while growing up in the church. In past conversations, we've talked about how your grandmother was devoted to the church and how the rest of your family followed her lead. The church seems to have informed your artistic practice greatly. Is this recent interest of fusing layers of sound and music with your work coming from your religious upbringing?
Kevin Demery: There is a certain layer of music and power that is in the Black Baptist Church tradition, to which I'm coming from, and there's a certain layer of sorrow in something that is immediately colorful and powerful. So, I feel like that was the nature of where the use of bright colors came from for me because before graduate school I was using a very muted pallet.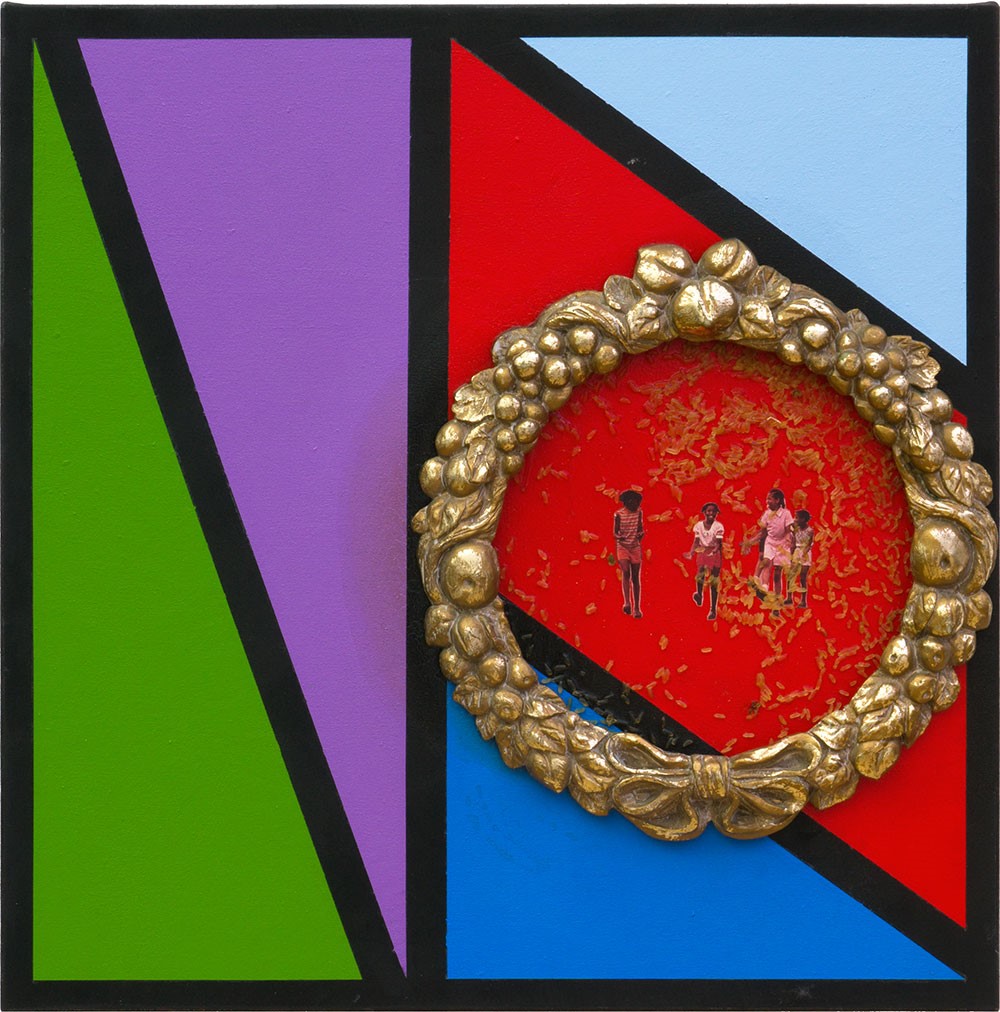 DD: Those expressive colors are primarily referencing stained glass windows found in churches, right? I grew up in the Baptist Church as well, and I remember them so vividly. But in your work, I see the muting of the colorization happening with the juxtaposition of the shoes placed in the composition. What is vividly bright in the image gets immediately diminished because you are discussing joy and worship, and death and sorrow simultaneously. How do you feel about religion now? Do you still have a connection?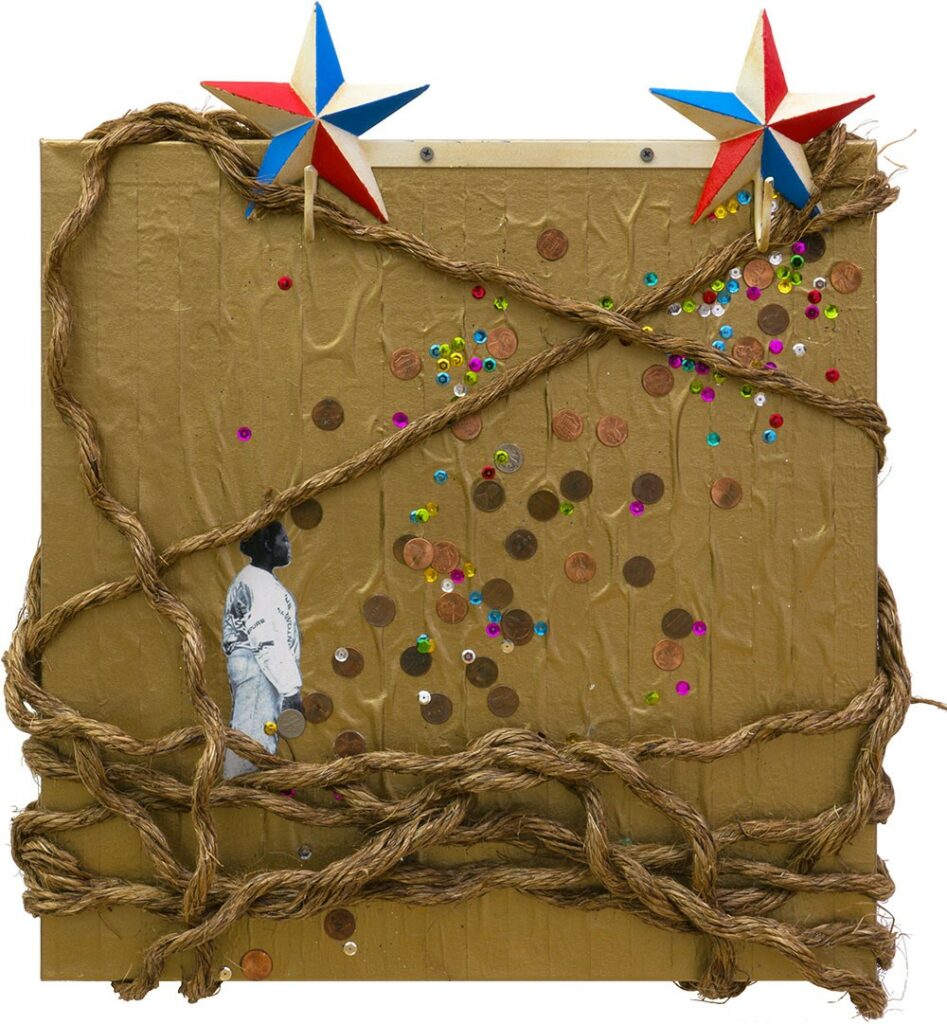 KD: Yes, there's a connection. I think there is a deep, personal connection with the church and the Black community. It's the essence of dogma— you create the reality that is around any kind of worship. For a long time, I studied religions, and I've learned how layered the relationship of Blackness and the church is; it's not simply just a relationship with God, but it's a relationship with culture. So, when I ask myself how I feel about religion now, I think about how there is no way I could not see myself in the essence and meaning of it. So, when I see a church environment, I think of Black Baptist Church traditions, and I see myself. There is no way I could not see myself in that— and it doesn't have anything to do with my own beliefs relating to a divine higher power; it's about how cultural it is for me.
DD: For the work that's being exhibited for your upcoming show, Power Lines, there seems to be a kind of pouring out of yourself, and because of who you are cultural, the work is imbued with cultural signifiers. Your work is activating these lifeless objects. In the two-month residency, while you reengaged with playing the piano, you felt something happening. What was happening?
KD: Yeah, I felt something immediately! I began to feel like there is something about sound, that I have a natural connection to. I think that's where the wind chimes idea started to form for me. There is something about sound that cuts through the atmosphere in a way that an object, in the context that I show these things, does not. I think that there is something about choruses that is going to be in my work from now on.
DD: Choruses?
KD: Yes! I do this thing where I write down pivotal points of conversations I have. So, I started to see this trend. Every time I talked about my process, I realized that the objects I made were living in isolation of each other, as one-offs. Even with the wind chimes I've created, they live as standalone objects. But when I sit down at the piano I feel like I have infinite possibilities, because I have all these keys to play. And each piece that I want to create, I think about as a key in this cog, in this machine. But before now, my pieces haven't been able to come together and chorus collectively in sound, and in song. That's the logic that I want to come from in future works. I want to find a way for the pieces to chorus together and not be in isolation.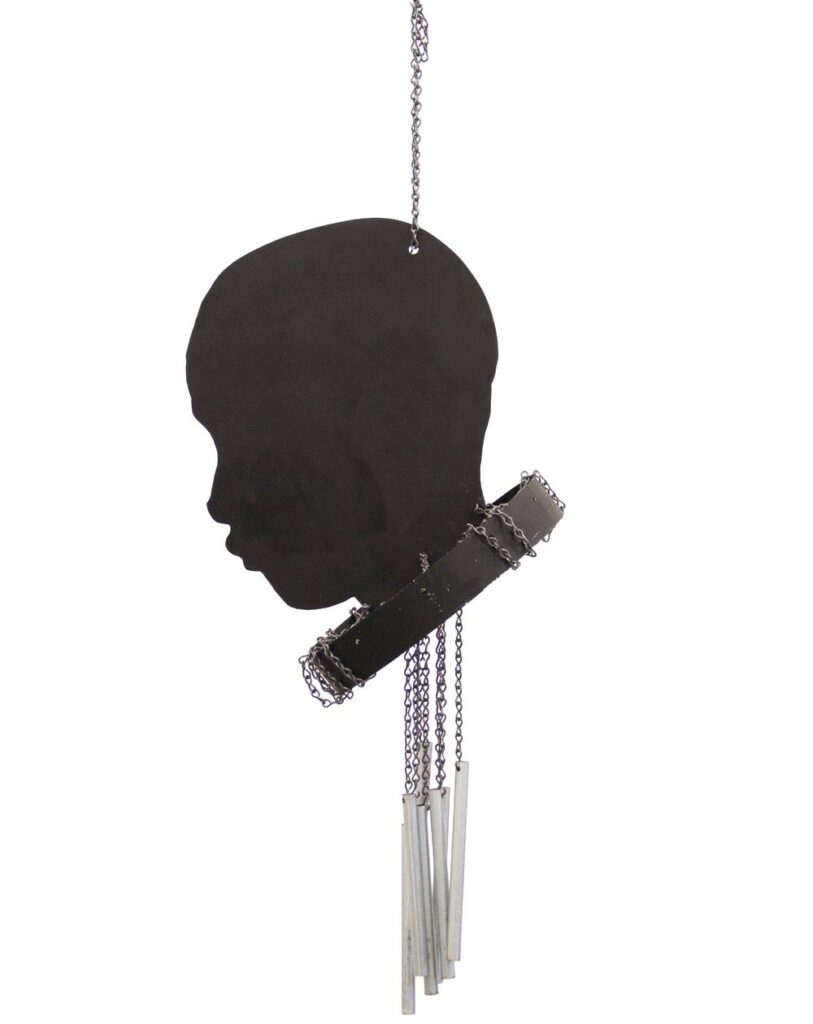 DD: The wind chimes are a new exploration for you. You smile when you speak about them. Tell me about the process of making the wind chimes, the physical process.
KD: The process made me think about resurrections. When I made my first wind chime, I wasn't sure that it was going to make any sound. I had been cutting up pieces of conduit all day, and even worked through the night at the residency, but I didn't know if my idea was going to work. But when I picked it up and it started to make sound, it felt immediately like something came to life, like it was a human being. Even having the eeriness that the sounds create informs us there is something here, there is something about the energy of sound that gives these objects life. I felt like the objects I was making before were a bit lifeless.
DD: There are two sound pieces in the show. I Heard God Laughing (2019) and In the Wilderness and Windfall of Our Existence (2019). Let's talk about the process of making those a little further. I understand that you wanted to activate an object in different ways visually and add sound as another dimension to the experience of the object. And you came to these concepts by re-engaging with the piano, an object that depended on your cultural experience to activate it in ways that causes it to live and breathe.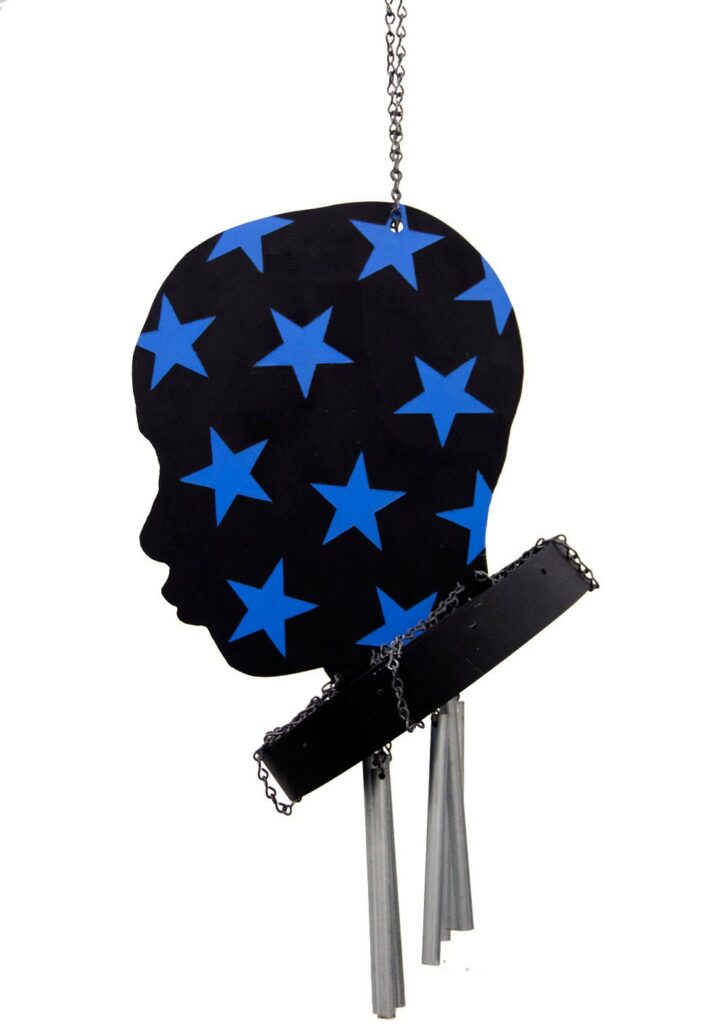 KD: I like to make work amidst a lot of conversation, like in an open studio practice. I think Augusta Savage liked to work that way too. She would have these open spaced studios where other artists could come in and talk and do their own ceramics. I envision something like this for myself. I am big on talking about my work while I'm making it, though sometimes I must escape, escape and have those solitary moments in the process. But the physical making of I Heard God Laughing was very methodical. I was just cutting conduit, not knowing what I would make of it. When I was at the Bemis Center, I had access to tons of materials, all this junk. I like to alchemically recycle, that's how I look at it. I love to be amidst a lot of junk and then make something from it. And I'd love to be in spaces like that more. Chicago felt a little bit pristine for me, and that's what changed my process for a while. I needed to be around junk to really be inspired to make things. The Bemis Center had, tons of metal conduit and the machines that I needed. Then from there, I found a lot of old chains and started to work with that. I just began piecing things together. I found odd pieces like a ventilation system of an air conditioner that I used in my work.
DD: Were you trying to piece together things that would sound good? Was the musicianship in you guiding your process as you were selecting pieces of conduit?
KD: (laughter) Well, I started by cutting out tiny pieces. I had cut tons of little heads and started attaching tiny pieces of the conduit to it as a test model. I knew that I needed pieces that were longer and shorter to get an effective sound. So, it all worked out in the end.
DD: It sounds like within these new works you have added another layer of yourself. Something was disconnected before, and now you are layering more of who you are as a being into the objects that you are making. All the works you've made for the Power Lines exhibition are deeply connected, even though you made the pieces at different points of growth with your practice. How long ago did you finish the work being shown for Power Lines?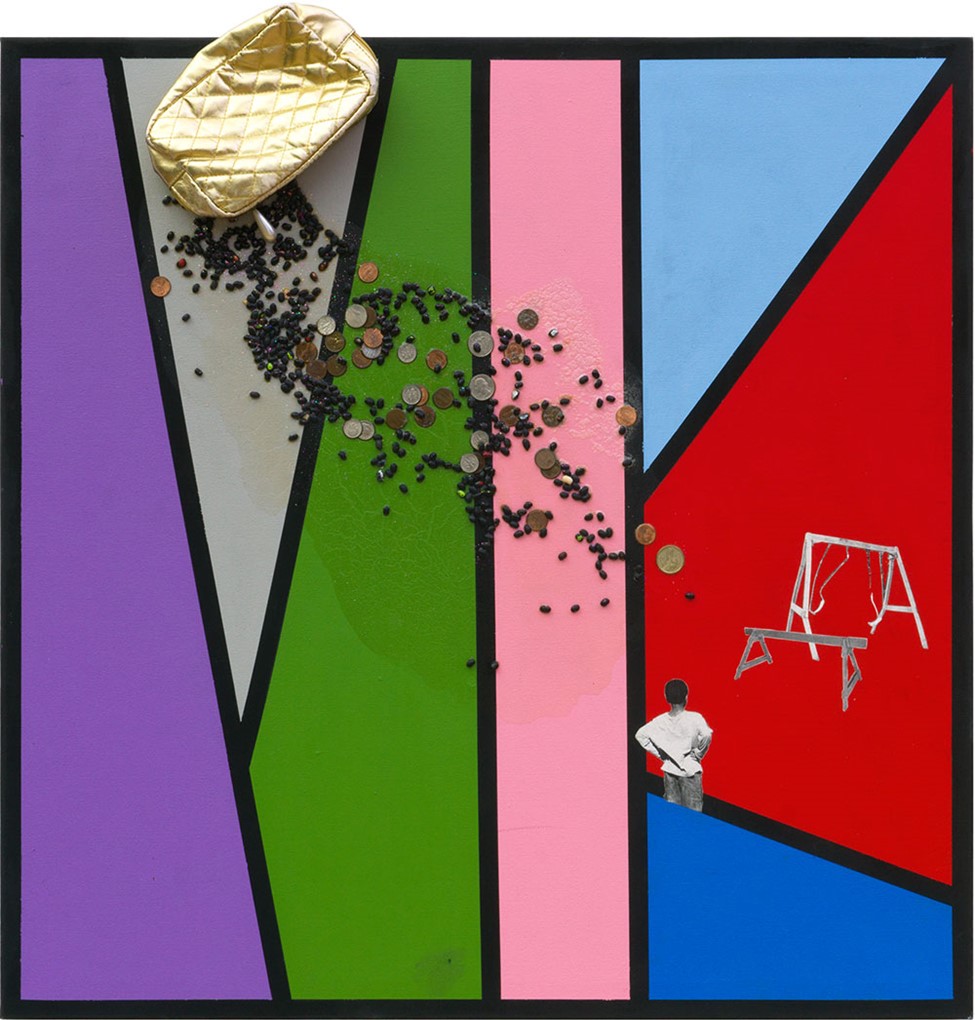 KD: Some pieces were completed in January 2019, but others were made as early as 2017. The earliest piece is called Boy Looks Like a Man (2017). When I was making that piece, I was thinking about good luck traditions. There are so many ways in which elements of good luck manifest in symbols across different cultures, but for me, it has always been about beans and cabbage and lucky pennies. In my family tradition, we wrap beans in cabbage leaves and put them in our pocket for good luck.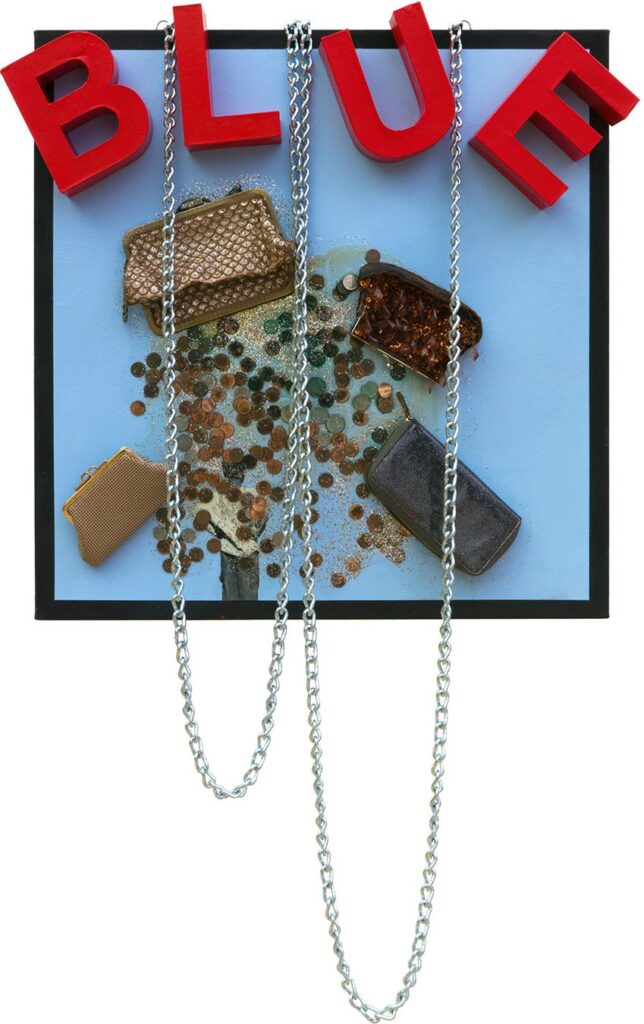 I'm interested in very subtle conversations about what it means for black boys to become men. There's so much weight that is put in terms of what it means to become a man. This has become a central theme for me, not only in my work but in life. And that journey is so heavy, and it's usually a singular one. It's also a painful journey because it usually deals with recounting everything we thought we've known, and really trying to come to terms with who we are, and who we want to be. So, when I was making that piece I was thinking about the good luck traditions of my family, and how I could blow those concepts up and make them larger. What if all the luck could kind of flood out?
Visit http://www.kevindemery.com/ To learn more about Kevin Demery's work and future projects.
All images of Power Lines appear courtesy of the artist and Sakhile&Me®