ARTIST SPOTLIGHT: Hayley Labrum Morrison
By Danny Dunson
5 th September , 2019
My work deals with the formation of core beliefs and discovery of new truths that have the power to change us. Each newly-discovered truth comes with a decision to accept and incorporate it into one's beliefs or reject it and persist in existing beliefs. Truth can lead the open mind through a personal evolution that contributes to a more accurate and sympathetic world view.
Discovery, truth, and belief disruption take shape in my work as surreal settings of disparate styles. Elements of the natural landscape, vintage children's books, sacred geometry, and my imagination as well as a variety of techniques and media such as mono-printing, paper marbling, spray paint, watercolor, acrylic, oil, and collage coalesce to unfold a reality that is reflective of the curiosity, intensified perspective, and playfulness of the impressionable mind. – Hayley Labrum Morrison
ArtX: Tell us about you as a person.
Hayley Labrum Morrison: My full name is Hayley Labrum Morrison, which I go by as a professional artist, but you can call me Hayley! I'm based in Austin, Texas. I have lived here for four years after living in Sydney, Chicago, Santa Fe, and my hometown, Salt Lake City, UT.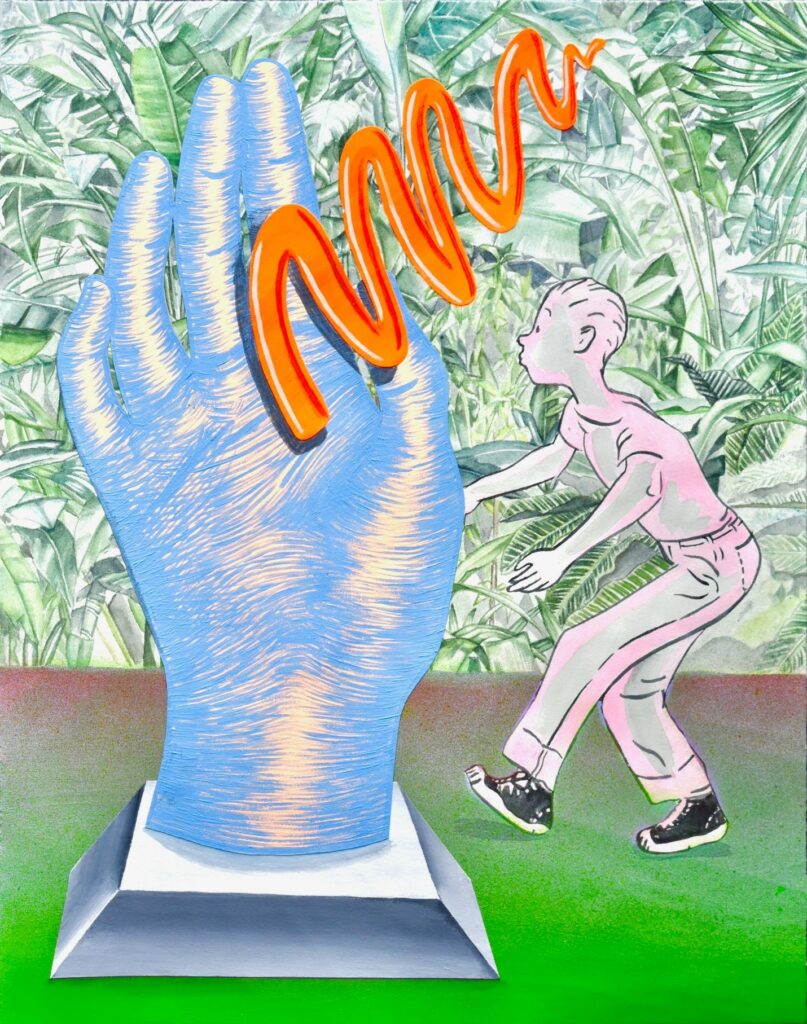 How long have you been practicing art professionally, when did you consider yourself a real artist?
I'd say my professional career started my third year of college when I began painting custom murals for income. I did commission work for a couple of years, but as the economy worsened, I put my art dream on hold and built a career as a recruiter, working for the University of Chicago, Bain and Co., and GLG. Last November I left my recruiting career behind to pursue a full-time career in art and haven't looked back since. I've just started my first-ever artist residency in Navasota, TX and have many projects in the works!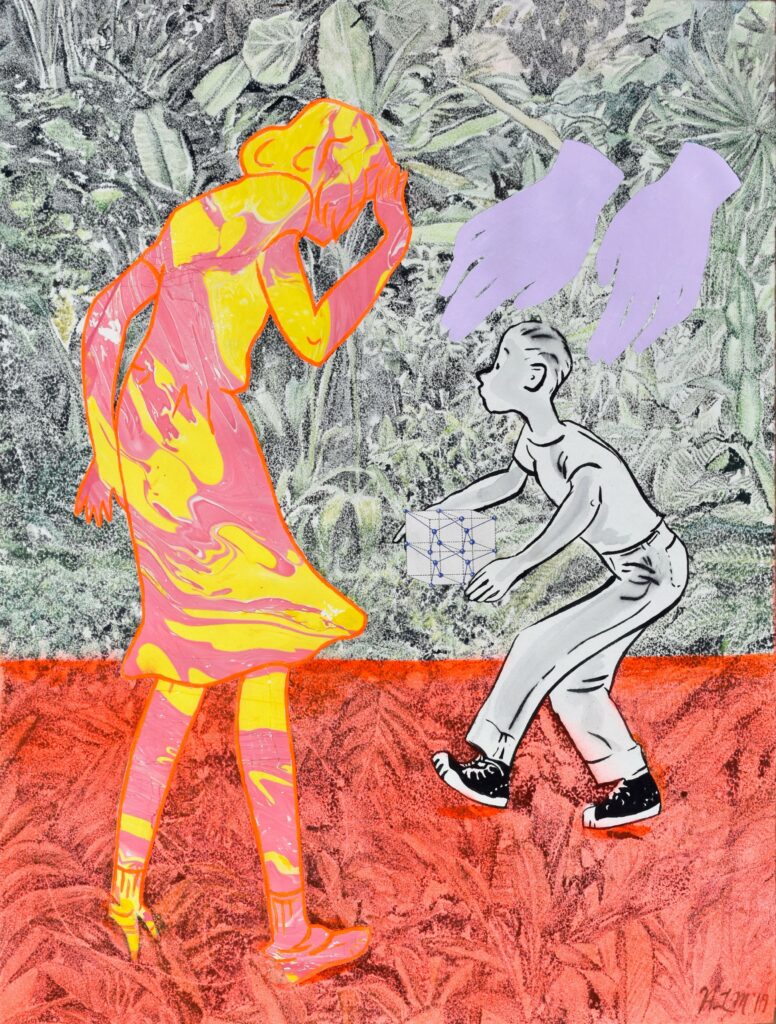 Did you go to art school? Tell us about your training, formal and informal.
I earned a Bachelor of Fine Arts in Studio Art with an emphasis in Painting and Drawing from BYU in Provo, UT. I have also studied watercolor painting extensively at Petersen Art Center in Salt Lake City, and Ceramics at Park West Ceramics in Chicago and Santa Fe Clay in Santa Fe. I love to learn new techniques and have recently attended workshops on paper marbling and paper mâché here in Austin, which I have already begun to incorporate into my work.
What mediums do you prefer to work in?
My first love was painting, and it will always have my heart. I feel that I am most able to communicate my concepts and ideas through painting. Collage is also important to my work, as it allows me to bring together a variety of styles in one piece. I am also appreciative of the fact that contemporary art is welcoming of alternate modes of making and I hope to explore three-dimensional art-making and installation more in the near future.
Who are some of your art inspirations? What are some of your non-art inspirations?
Early on in my art education, I was heavily influenced by the abstract expressionists of the New York School. More recently I have drawn from the surrealist movement and feel a particular kinship to Rene Magritte. Some Contemporary artists that I follow closely and am inspired by include Lauren Clay, Terry Hoff, Genesis Belanger, Shara Hughes, and Christina Quarles. Non-art-related inspirations include the natural landscape, my imagination, my personal history and memories, and the story-telling and symbols of the faith that I grew up in.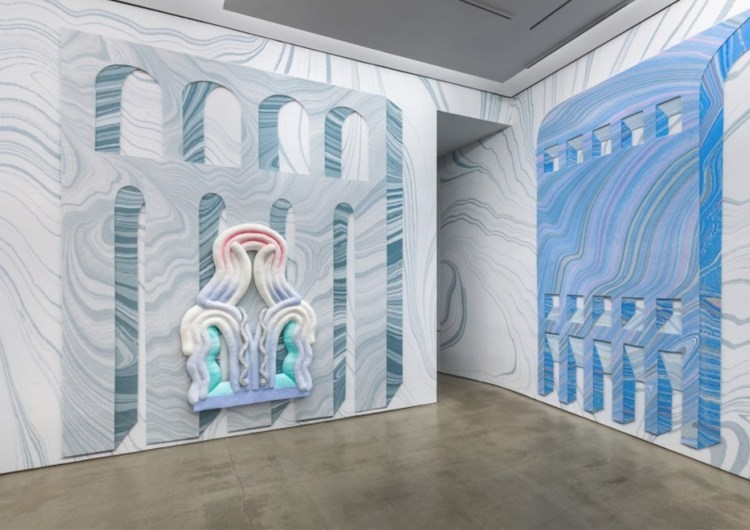 When do you know when a work is finished?
This is a really tough one for me and I ask myself this question every time I think I am finishing a piece. I tend to follow the advice one of my art school professors gave me – "Less is more, if the piece can survive without one of the elements in it, take it out." I tend to over-complicate and busy my pieces, so editing is important. Once the piece looks as though it has every element it needs to succeed on its own, I call it done.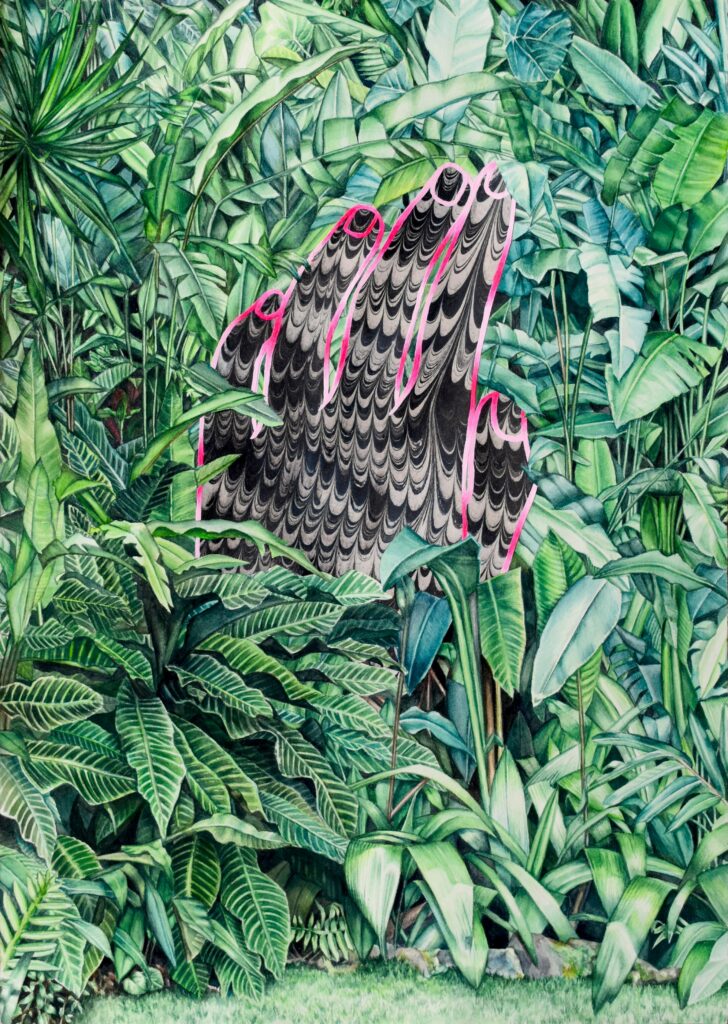 Tell me about your process when working. Do you listen to music or do any rituals to get yourself ready to make art?
Generating ideas and concepts for my work is fluid and often supported by my subconscious, like when I am falling asleep, in the shower, or driving. Once an idea strikes that I am excited about, I quickly sketch it out. My process, however, is less about the planning and more about the doing. I will start on a piece with a simple idea and not know exactly how it will end up. I add elements and play with composition and color until I've reached completion. This means I have a huge folder of painted and marbled pieces of collage that I pull from as I build a piece. And, if I don't already have what I'm looking for, I'll make it. There is always something on media-wise when I create – streaming tv, music, podcasts, etc. I have a little music obsession and lately Phospholipid by Blood Cultures and Starchild by Boyz Noise have been on repeat.
What are the meanings and the concepts behind this particular body of work?
The overarching concept in my recent work is the evolution of beliefs based on new information. Within that umbrella, I am exploring concepts of patriarchy, the morality of education, communication with god, and more. For viewers interested in my symbolism: The geometric shapes often represent a thing discovered, like a new tidbit of knowledge. The hand imagery is sometimes representative of the will of god, or the will of man. The figures in my work are meant to appear youthful, curious, and possibly out of place. The bright colors and patterns are intended to be disorienting and surreal while the elements of nature, like tropical leaves, represent "the unknown" or mystery.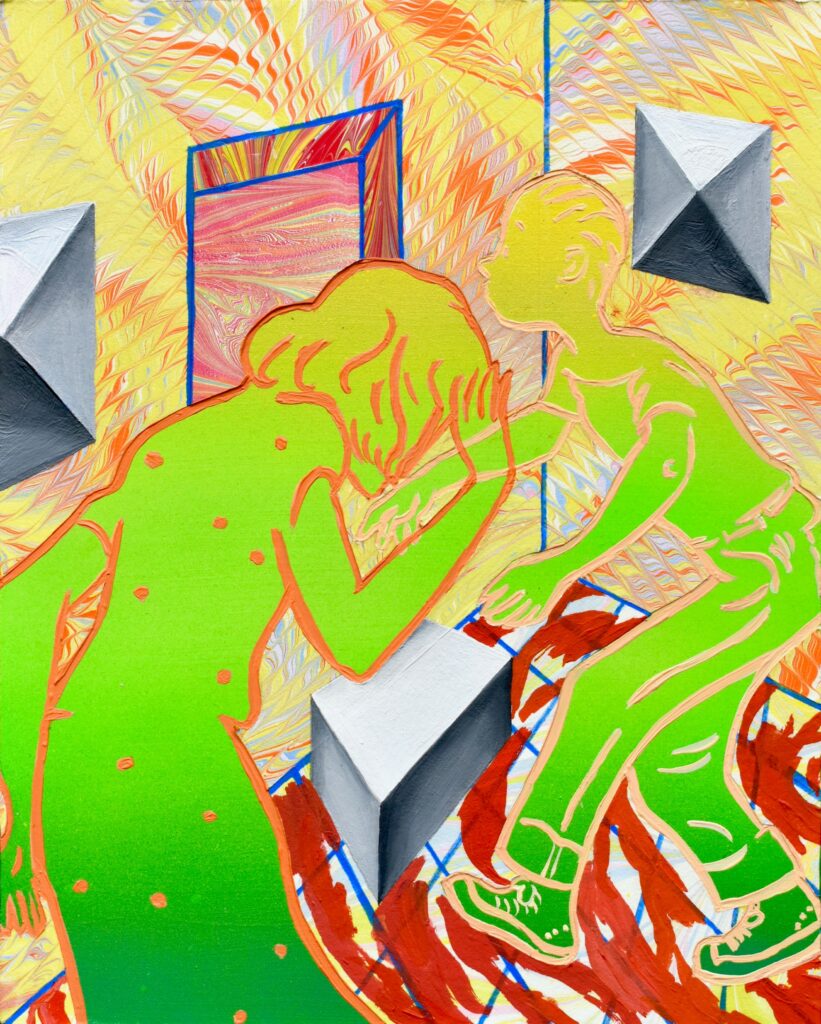 What do you want viewers to take away from your work?
I hope that viewers of my work get a sense of innocence, discovery, subtle comedy, and surrealness. I want my work to feel other-worldly and cryptic, while also being playful and relatable. The concepts of my work are very personal and can be complex, but when a viewer takes genuine interest in and truly understands the work, it means a lot.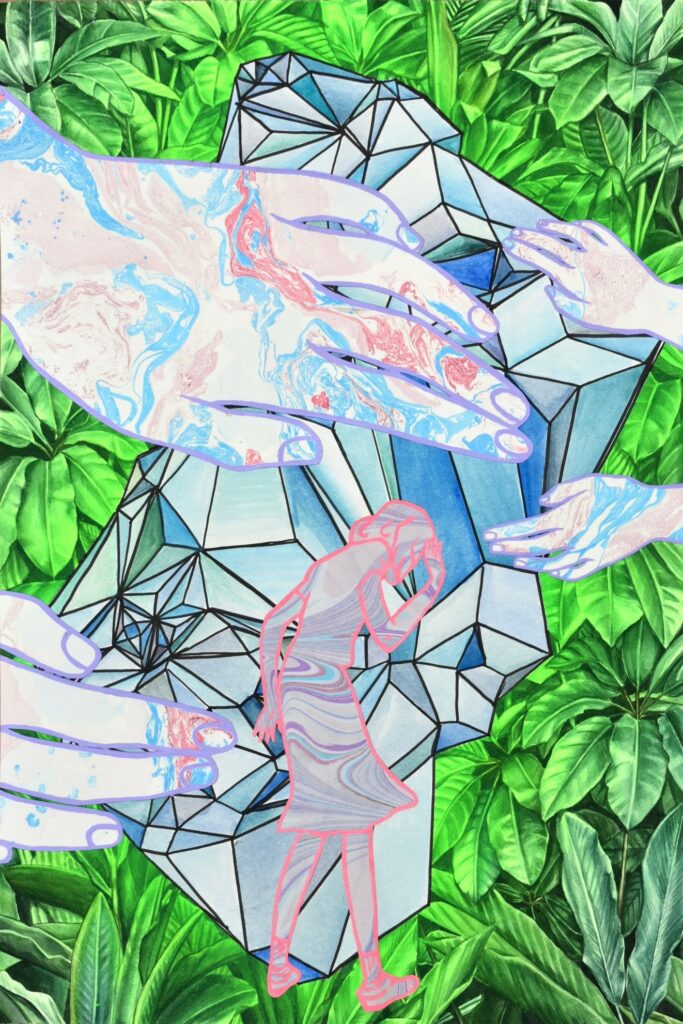 What are your biggest goals as a visual artist? And what has been your proudest moment professionally?
I am interested in doing pretty much everything when it comes to me being a professional artist: group and solo shows, residencies, large-scale site-specific work, etc. but I am particularly interested in eventually doing visiting artist workshops and lectures at the university level. These visits meant so much to me as a student and it's one way I can use my passion to mentor others in a direct way. But of course, I like to fantasize about one day having a retrospective of my life's work at the Tate Modern or MoMA.
Visit Hayley Labrum Morrison's website to experience more art and upcoming projects.
Follow Hayley on Instagram at @hullahoop_