Artist Spotlight: Gustavo Barroso
By Danny Dunson
3 th August , 2019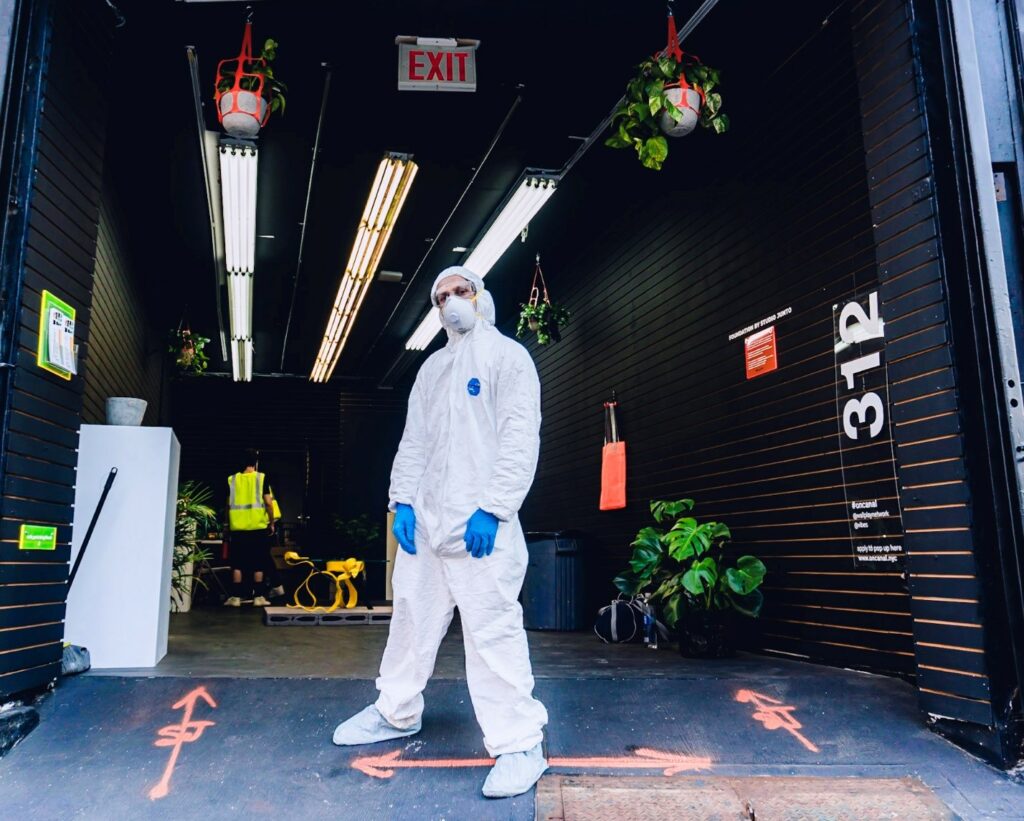 "I think I gravitated towards art and design because it provided a way for me to craft my own narrative about who I was. I felt in control," says Gustavo Barroso, an emerging multi-disciplinary artist based in New York City.
The artist recently founded STUDIO JUNTO an emerging label exploring materiality, purpose, and the human condition. The studio's work contemplates the complexities of life through the contrast of intrinsically opposite materials, objects, and experiences.
We sat down with Gustavo to talk about his process, what inspires him the most, and the meanings behind the objects he creates.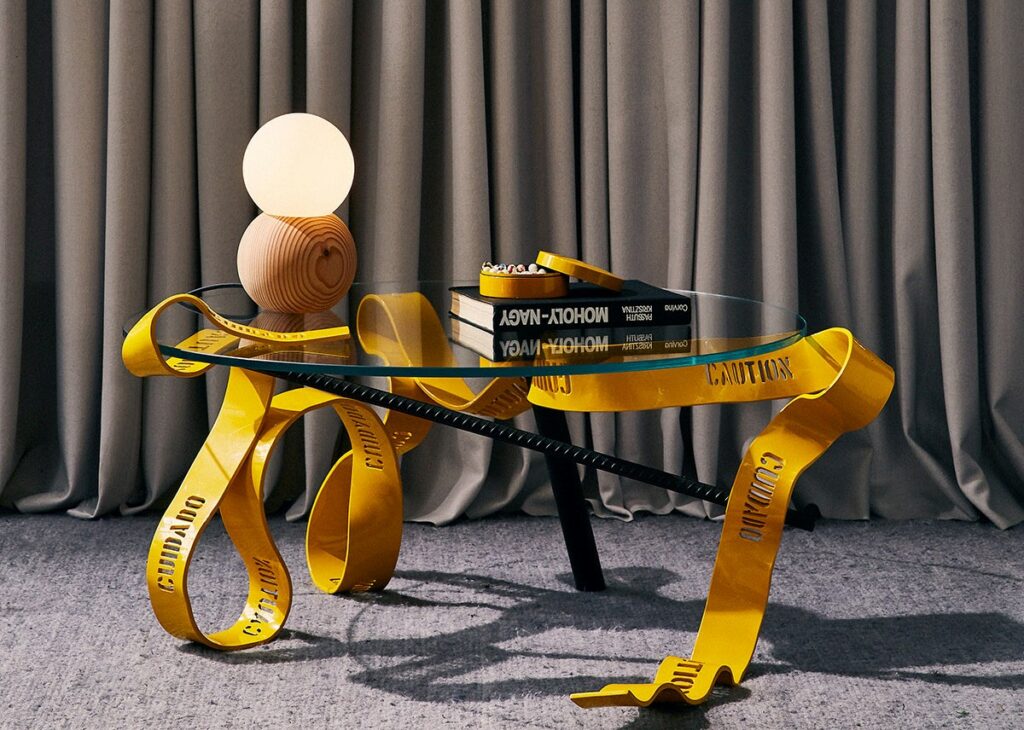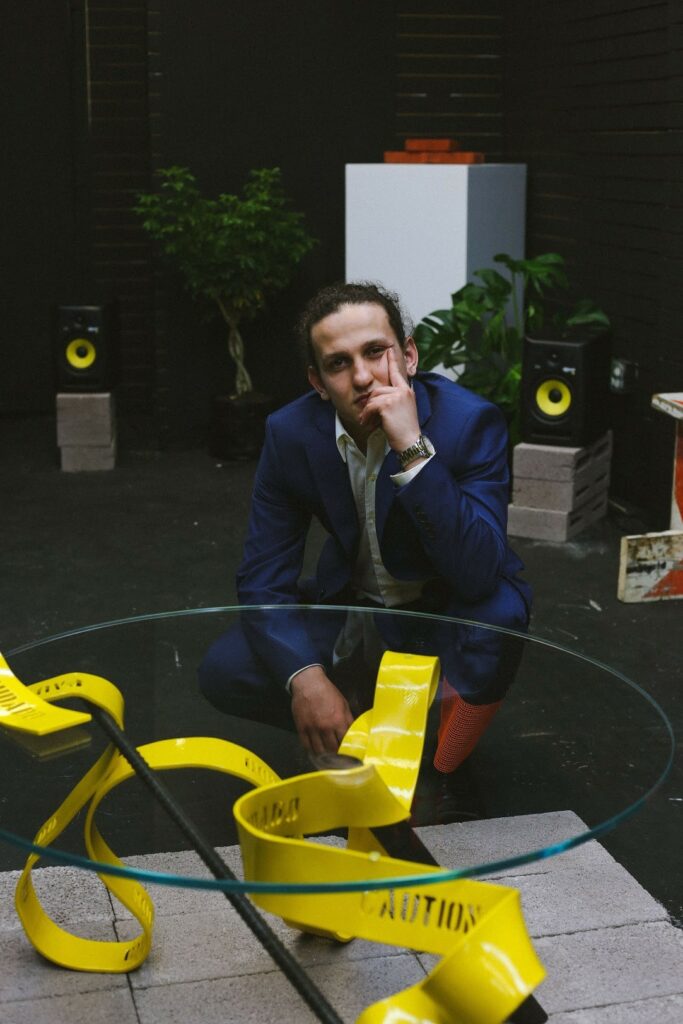 ArtX: Tell us about you as a person.
Gustavo Barroso: My name is Gustavo Zandonadi Barroso. My friends call me Stav or Gustavo. I was born in a small rural town in the Brazilian countryside called Teodoro Sampaio, to two hardworking parents. They brought my brother and me to America in 1999. We were raised in Nashua, NH – a city of about 80,000, located an hour north of Boston. Currently, I am based in New York City.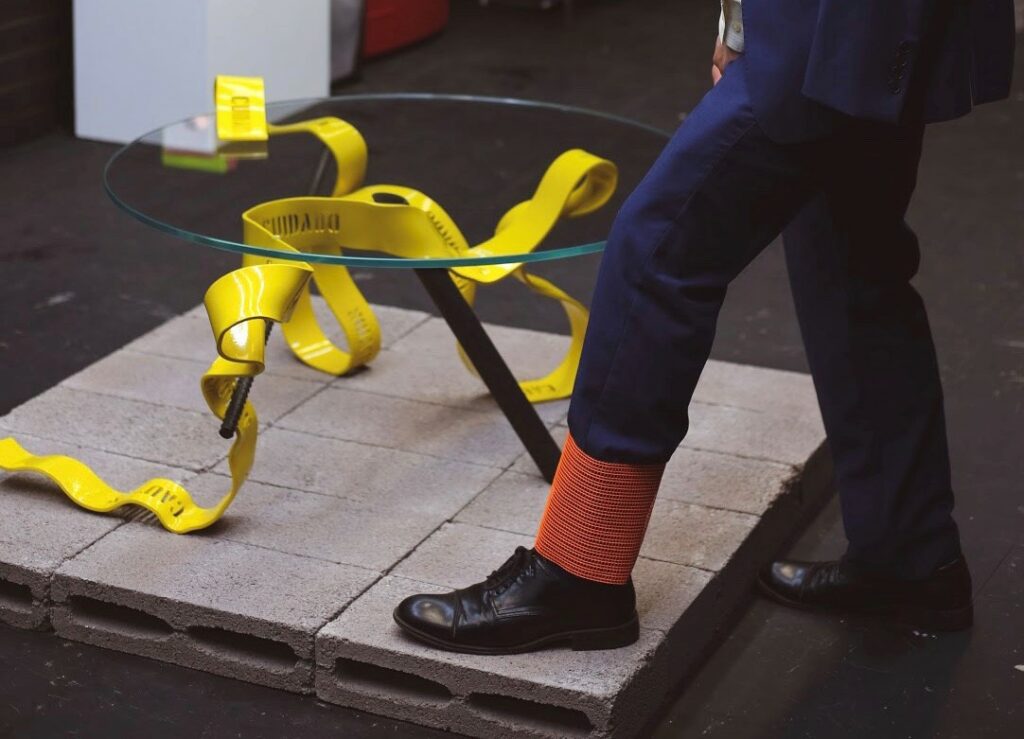 How did your upbringing inform your work?
I've learned that a driving force in my creation is a desire for connection. I remember receiving heartbreaking phone calls from other kids in grade school telling us to "go back where we came from". A narrative, unfortunately, reverberating through America right now. As a kid, that experience created a great sense of insecurity and angst that manifested in obnoxious and sometimes violent behavior. It got to a point in the 7th grade I managed to get suspended from school twice in the same week.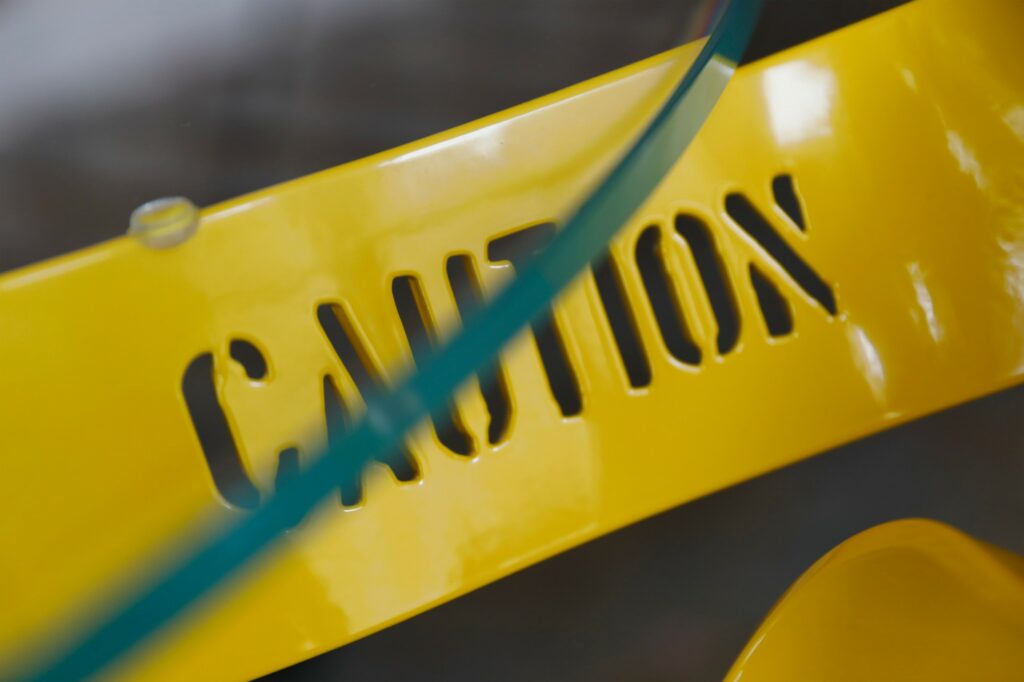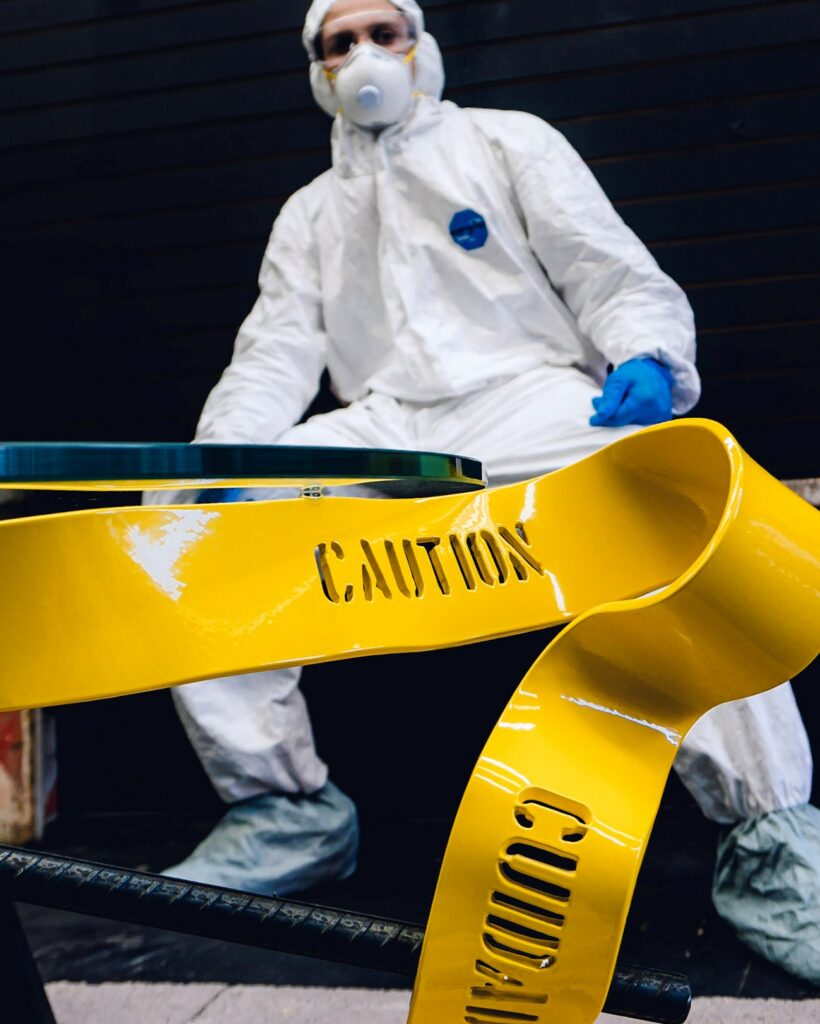 That was a big turning point in my life because my parents sent me to live with my grandparents in Brazil for a year. My grandmother was much stricter than my parents, which meant that I spent a lot of time at home. It was during this time that my cousin taught me how to illegally download Photoshop and use it to manipulate images.
The next year when I returned to New Hampshire, I discovered clothing brands such as Lifted Research Group, The Hundreds, and Diamond Supply Company. I learned more about streetwear and found that a lot of brands were started by minorities, immigrants, or children of immigrants who had the same feeling of isolation that I felt. I started to take art classes more seriously and started making graphic tees which I sold to my friends.
As I got better at drawing and designing, I also became more confident in myself. Retrospectively, I think I gravitated towards art and design because it provided a way for me to craft my own narrative about who I was. I felt in control. I began spending summers in my room, deep in my sketchbooks and computer. It was easier for me to sketch my ideas and frustrations in a notebook than it was to talk about it. The parallels between my desire for connection and my work still exist today. In fact, my studio name is Studio Junto, which means "together" in Portuguese.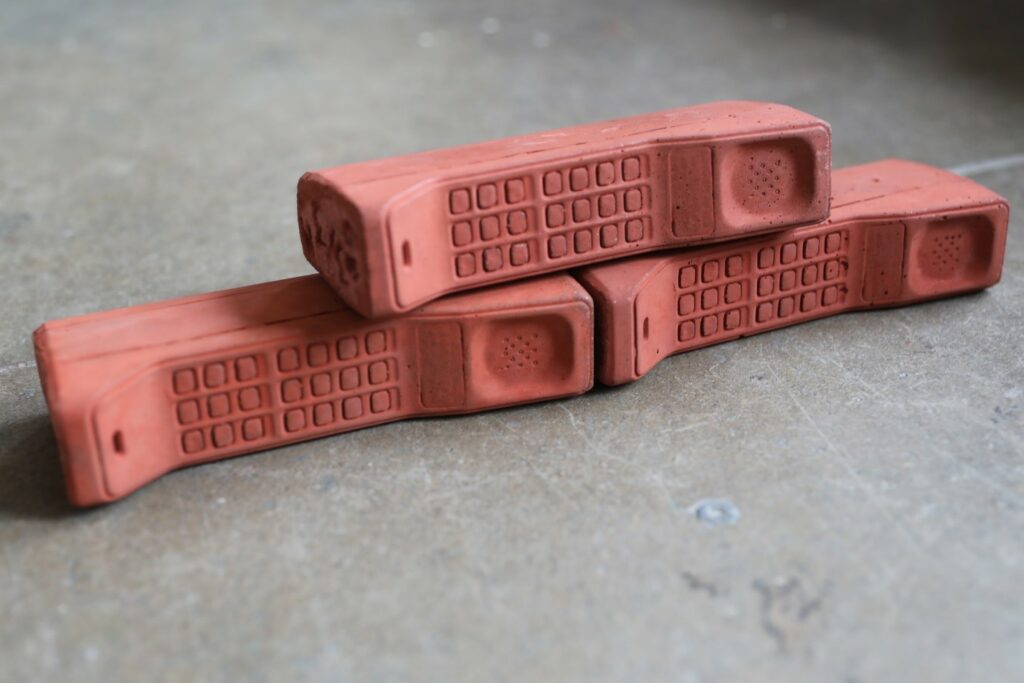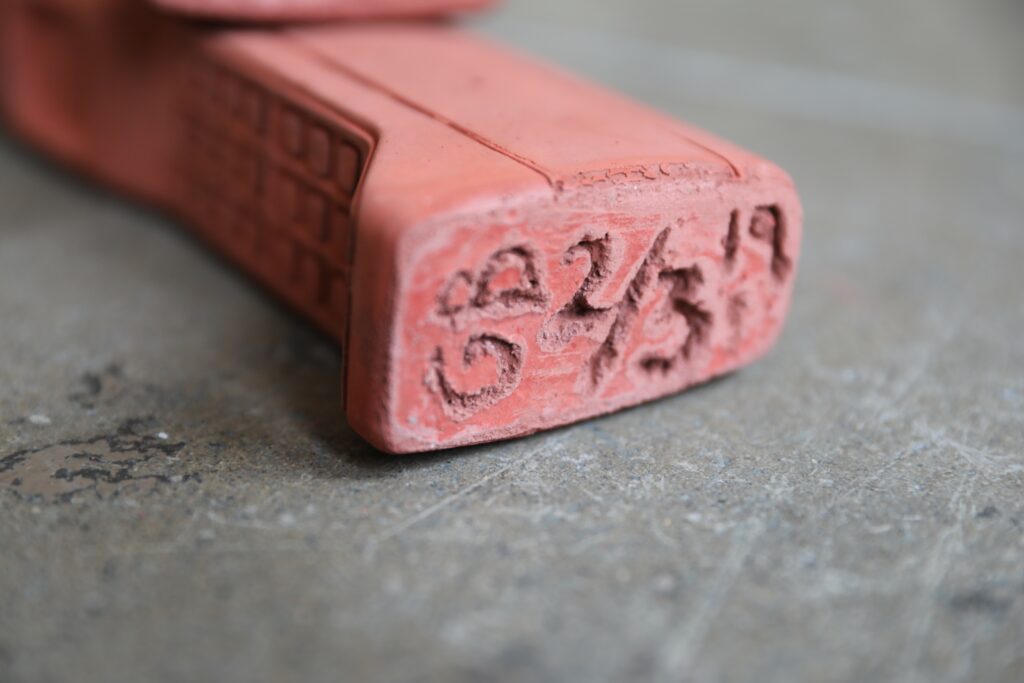 How long have you been practicing art professionally and when did you consider yourself a real artist?
I sold my first piece of artwork in the 10th grade for $15. It was an abstract watercolor painting. I have been selling artwork and doing freelance design since, but it wasn't until last year when I decided I was going to pursue art as a career.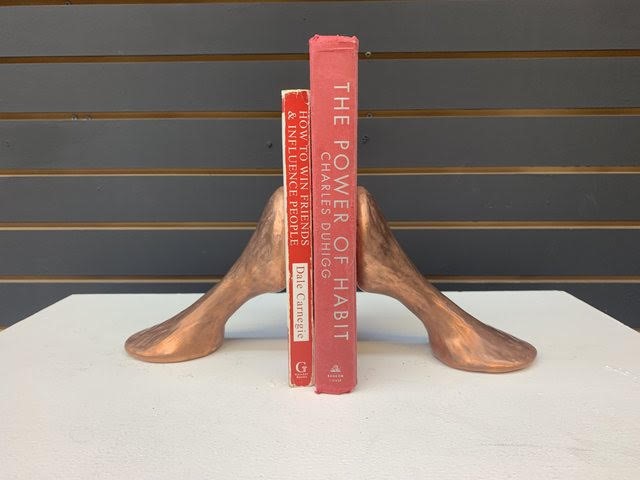 Did you go to art school? Tell me about your training, formal and informal.
Growing up I used to watch my mother doodle on envelopes as she paid bills over the phone. I would mimic her and create my own doodles. My aunt Rosa is a beloved art teacher in Brazil, and she would do little projects with me, but I always lived in small apartments, so I never had access to space or tools. It wasn't until college that I started to think in 3 dimensions.
I studied Industrial Design at the Massachusetts College of Art and Design in Boston, MA. I had a professor named Taylor Davis who is a great sculptor and taught a class called Form Study. She gave incredibly intense critiques with a sharp eye for detail and sometimes harshly honest feedback. I loved it. Her rigor pushed me to spend countless hours in the woodshop and after the semester, to my astonishment, she asked me to help her with some stuff in her studio. Being in her presence on her turf boosted my confidence because it made me feel like being a practicing artist was truly possible.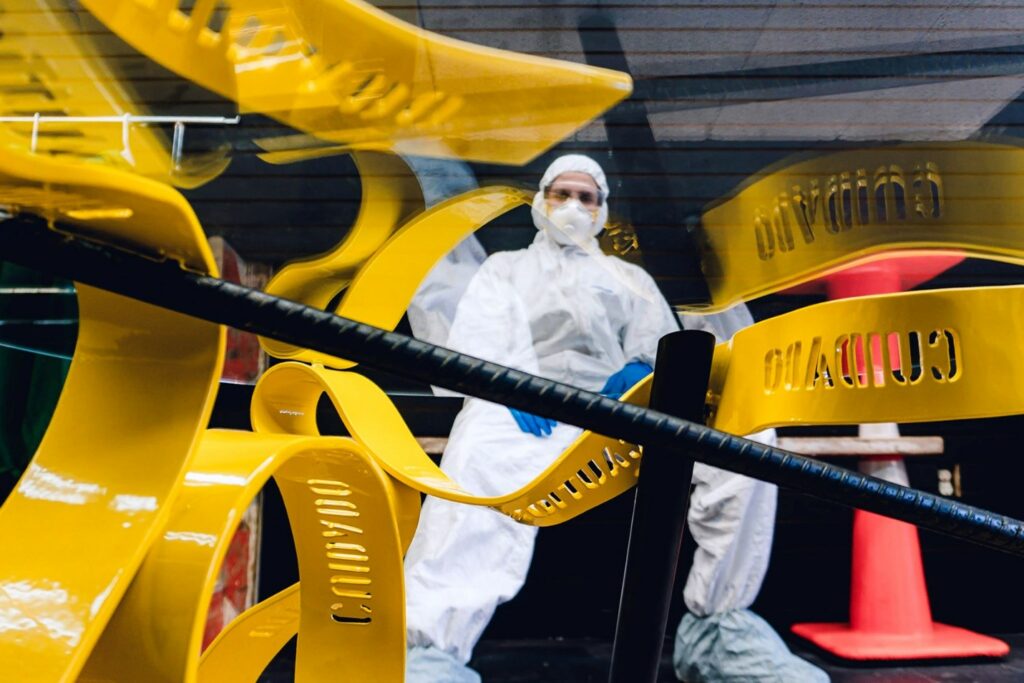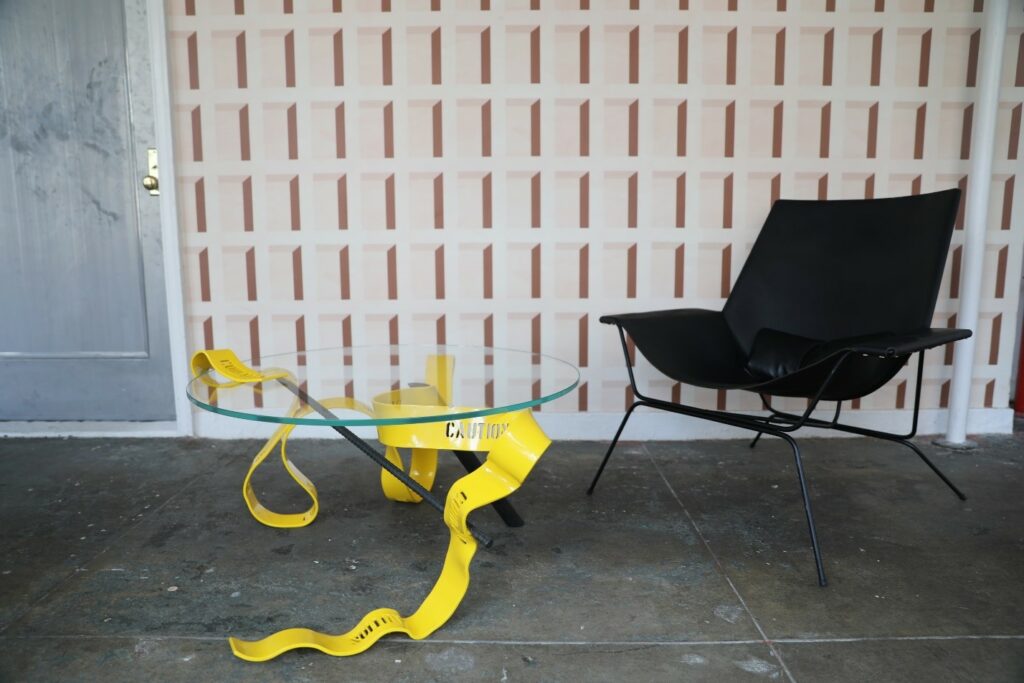 Then I took a Furniture Design class and that was my first time feeling like I found my purpose. The marriage of artistic expression and function was something that reduced my guilt of making art. For some reason, I've always felt like making art doesn't contribute enough to society like a doctor or firefighter. I am working on getting over that insecurity.
In my last semester, I took a class called Advanced Metal Projects with the esteemed sculptor Vivian Beer. That was the first time I learned to work with metal and that's when I made the Caution Table. I fell in love with the body's movements of bending metal because it involves the whole body and feels like a performative dance.
Whenever I am around a professional artist, I think of it as training. I watch how they work, what their studio is like and how they approach their career. I can learn from their successes and failures. Nobody has all the answers to this art thing, so I just try to learn a little from everybody as I go.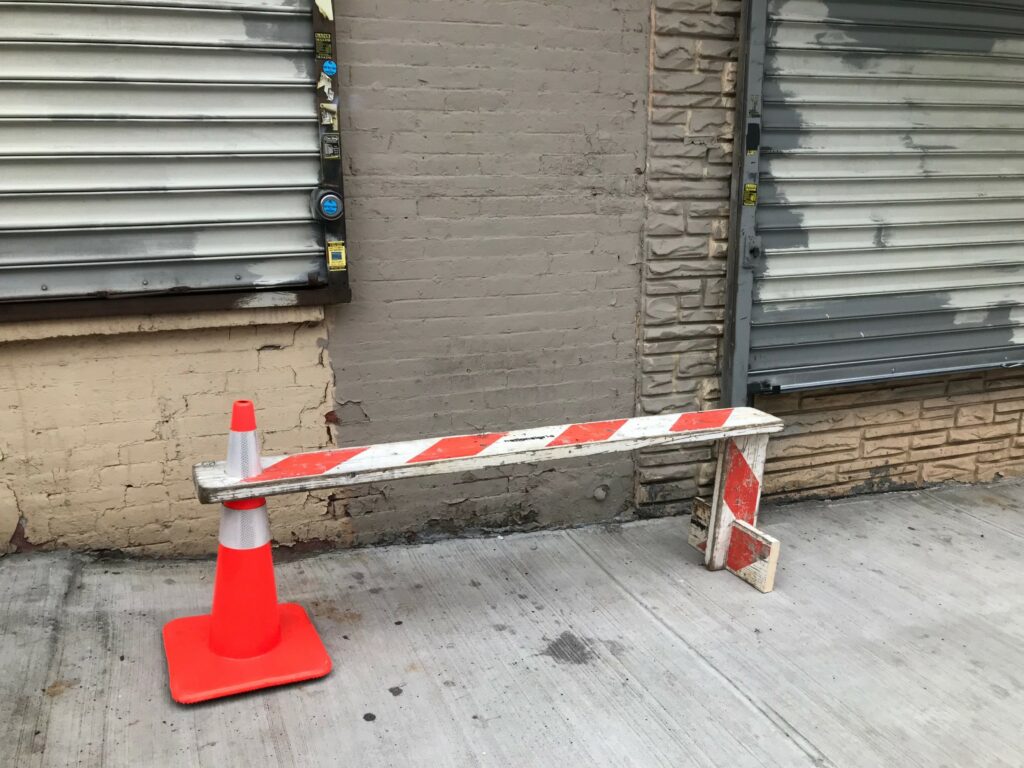 What is the medium(s) that you prefer to work in and tell me why?
Currently, I am most interested in furniture, sculpture, and painting. I enjoy painting when I feel like letting my mind wander. I can pick up a brush or stick my hand in a tub of paint and just talk to the canvas. It makes me feel incredibly free. I love sculpture because the dimensionality of it opens up new opportunities for materials and illusion. Furniture is really fun because it brings a level of interaction that pushes a piece's narrative. I am in the early stages of some projects that blur the line between these mediums.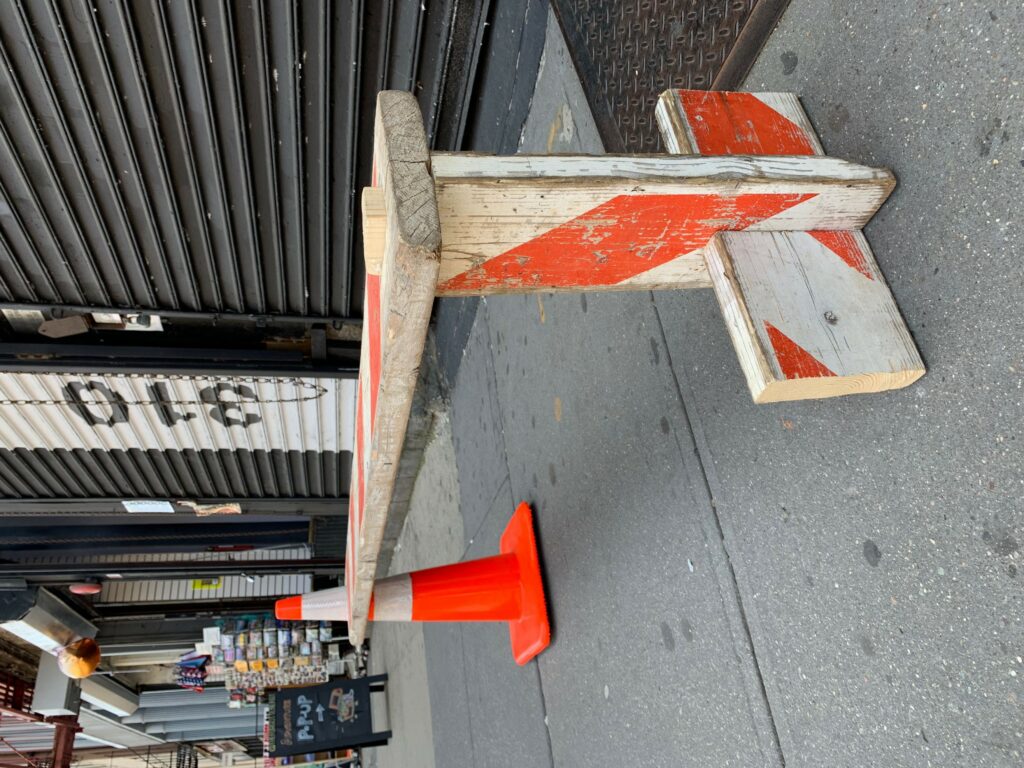 Tell us about your work conceptually. With works like Caution Table, you take mundane objects and elevate them to luxury tell me about the concept behind that.
In an attempt to explore societal and personal complexities, particularly involving themes of contradiction and connection, I employ popular materials, objects and symbols as if they were characters in a story. I enjoy thinking about the history, purpose and context of materials while also exploring the emotional response to form. When creating the Caution Table, I was trying to explore the idea of occupying space. The tape flows in a whimsical and surreal manner as it reaches over the tabletop and eventually billows out from underneath the glass top. I kept thinking about how caution tape is meant to keep humans away while a coffee table is a symbol of comfort, a suggestion to relax. By combining the two, I am hoping to create a strange middle-ground.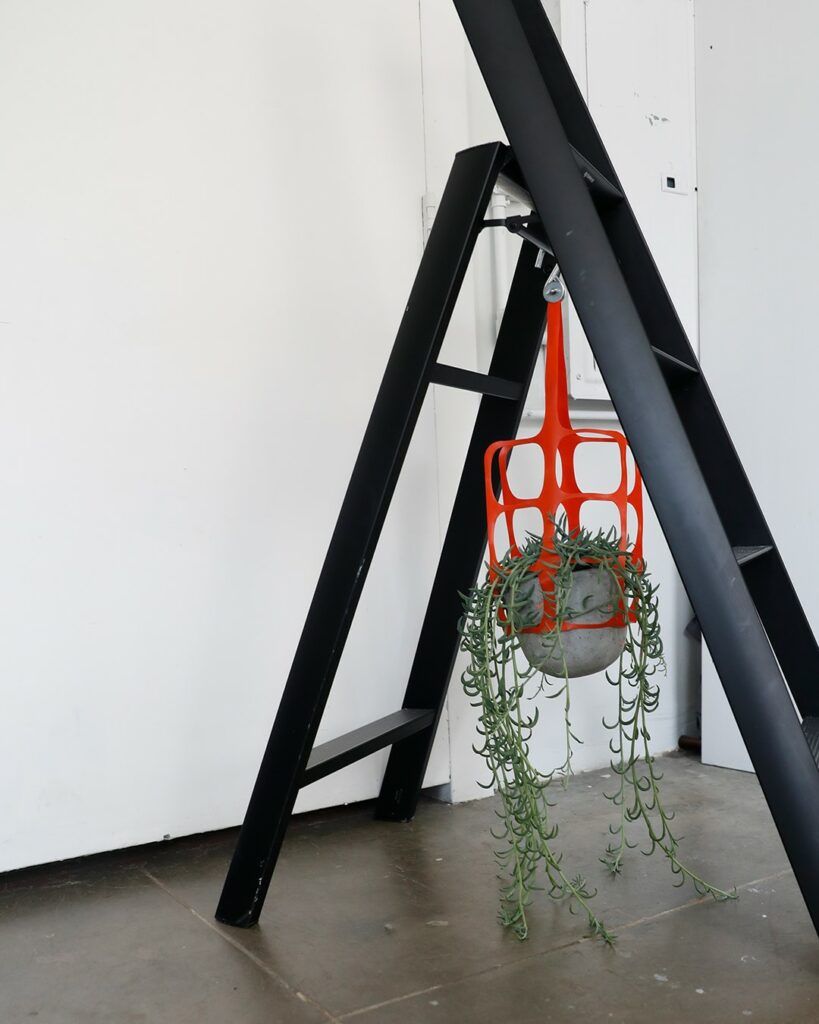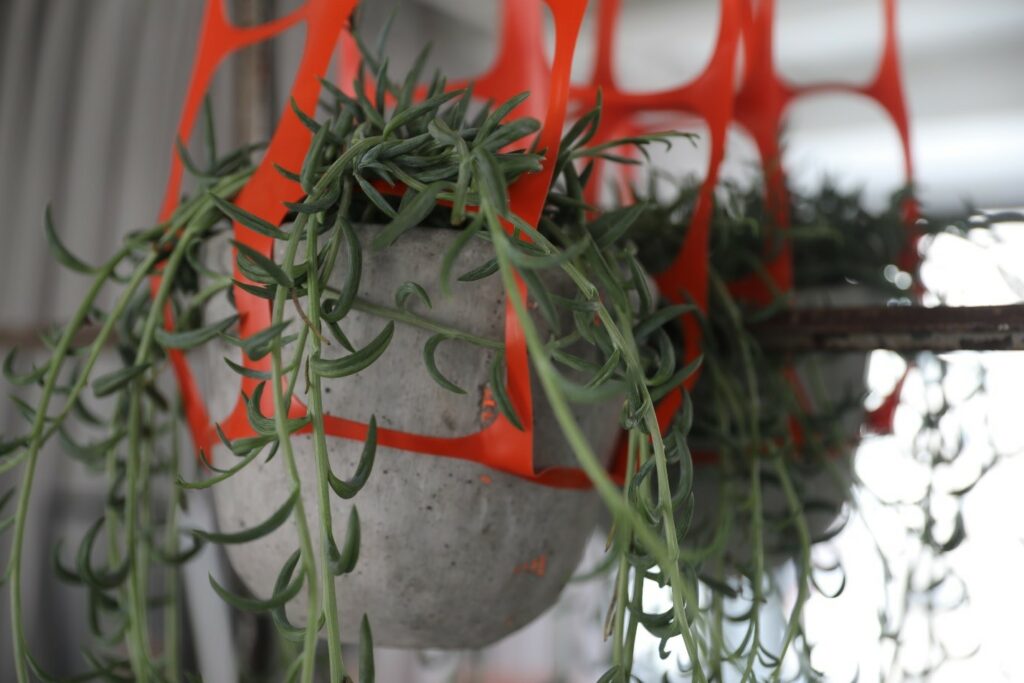 Who are some of your art inspirations?
Stylistically and conceptually I am currently most interested in the Surreal and Dada movements. Artists such as Dali, Magritte, Duchamp, Schwitters. I particularly admire their ability to incorporate symbolism and iconic imagery into beautifully narrative compositions. Whether it's straightforward, indirect or irrational, I also try to capture a broad spectrum of the human condition and imagination. I try to employ the same industrious attitude of artists such as Kanye West, Chuck Close, and Van Gogh.
Tell me about your process when working. Do you listen to music or do any rituals to get yourself ready to make work?
Most of my ideas start as words in my notes app. I like to write a sentence or two that encapsulates an idea or story. From there, the process varies greatly to accommodate the idea. I do listen to a lot of music on full blast. When working on furniture I usually make lots of sketches and scale models before moving onto full-scale prototypes. For the Caution Table, I made dozens of sketches and over 20 scale models.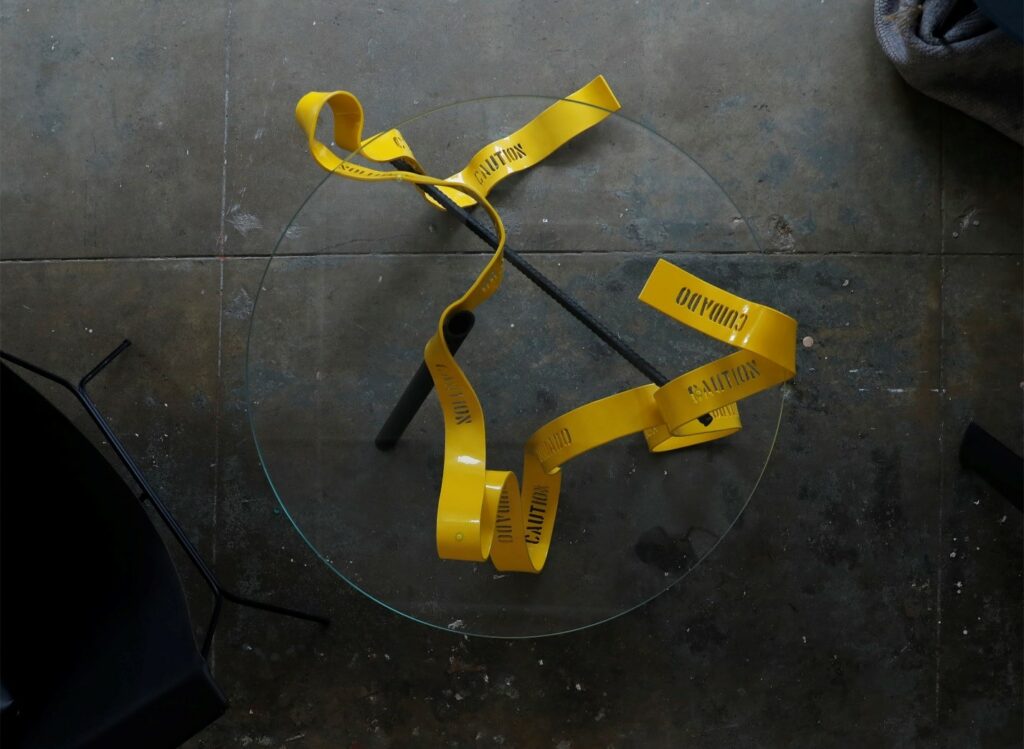 How do you know when a piece is finished?
It's a feeling. Sometimes I like a piece before I get to the point where it is "supposed" to be finished. Other times I do everything I want to a piece and it still doesn't feel complete. I could say that it's when there is good composition or great color and although that's true, it always comes back to an instinctive feeling. Every detail should look and feel intentional.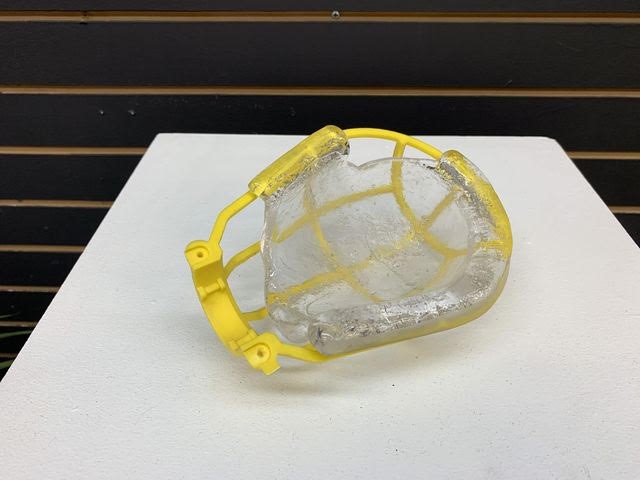 What do you wish viewers would take away from your work?
More ideas. I feel like no matter what we do as artists, our work will always be interpreted through the knowledge and experiences of the viewer. I just hope that my work gives people more ideas in any realm of their imagination.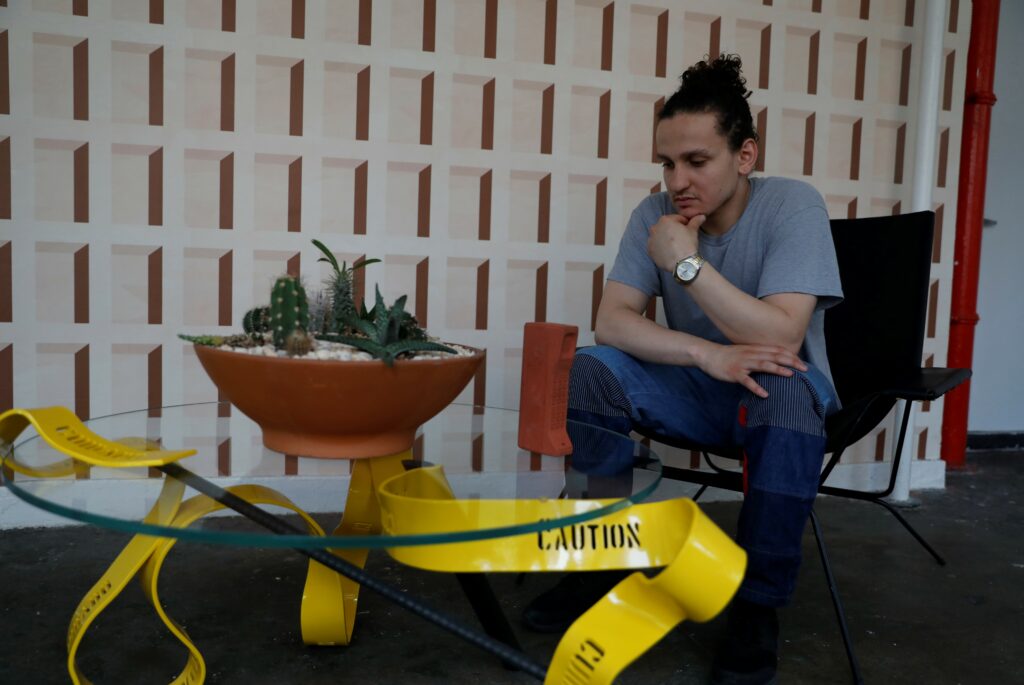 What are your biggest goals as a visual artist? And what has been your proudest moment professionally?
It'd be cool to have a sold-out solo show at the Niterói Contemporary Art Museum just because it's in my home country and it was designed by Oscar Niemeyer who is my favorite architect. I want to receive the kind of recognition and financial compensation that allows me to give back to communities and provide for my family. Recently, I have started to receive messages from people I've never met, saying that my work has inspired them to pursue their own ideas and that makes me feel like I'm moving in the right direction.
Visit gustavobarroso.com to learn more about Gustavo's work and upcoming projects. Follow him on Instagram at @gustavobarroso__